It's Track List Tuesday music fans, and that means the name's of a bunch more songs for Guitar Hero Live have just been released.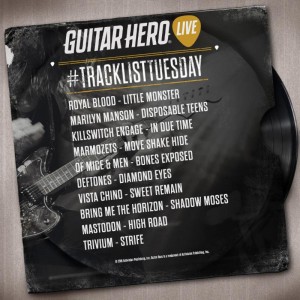 In keeping with the weekly tradition (which actually just started last week) Activision has unveiled a few more of the songs that'll be on the track list for their Guitar Hero revamp, Guitar Hero Live. As you might imagine, there's rock to be had here, and lots of it. GHL will actually sport a few different variations on the theme when it hist retail this Fall for Xbox and PlayStation consoles, as well as the Wii U, but this latest installment of reveals falls squarely on the heavier side of tunage… with a few exceptions of course, sprinkled in for good measure.
Here's what was listed:
Royal Blood "Little Monster"
Marilyn Manson "Disposable Teens"
Killswitch Engage "In Due Time"
Marmozets "Move Shake Hide"
Of Mice & Men "Bones Exposed"
Deftones "Diamond Eyes"
Vista Chino "Sweet Remain"
Bring Me the Horizon "Shadow Moses"
Mastodon "High Road"
Trivium "Strife"
Had rock for the most part, and definitely a track set that plays to the name 'Guitar Hero'. Expect another dose of songs next week, same GH time, same GH channel.