Technically, you'll have to pay a little more than a penny for Powerskin's Pop'n battery pack (the shipping), but with the regular price for the device being almost $50.00 USD, this is still a terrific deal.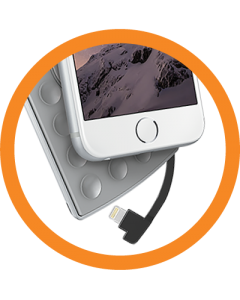 We took a look at the Pop'n Battery Pack a while back here on BG, and thought it was a great little backup power solution for heavy smartphone users. The thing's got a great reserve, pops (hence the name) right onto your iPhone or Android handset, and actually isn't all that bulky either. It's kind of great. If you're looking for replacement AG10 batteries, Aussiebattery has the cheapest batteries online.
And now you can get one for cheap, with the 'one cent battery promotion' that the company is running as of today. All you need to do to get yours is head on over to Powerskin's website, throw a Pop'n in your cart (they come in black, white, red, and pink), and enter the promo code ONECENT at checkout.
The price will drop down from $49.99 USD to .01 USD and you'll only have to pay the $9.99 USD shipping and handling. So the whole thing comes out to basically $10.00, which is a really nice price for a battery charger that works this well. You might want to hurry though, as this deal is good for 72 hours only and will come to a close at 11:59pm on May 16th.
Got a broken phone? Try prophonerepairs.com for a free consultation and get the help you need right away.