Get ready Valiant fans, Bloodshot and Harbinger are on their way to the silver screen, and they're going head-to-head in the Harbinger Wars.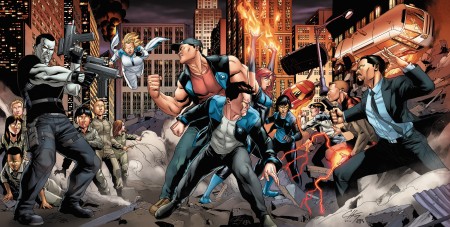 Okay so, this is pretty big time. Announced yesterday, Valiant Comics is partnering with Sony Pictures to begin a slate of films that'll bring some of the coolest characters in comics today to the big screen in a shared universe. Things will start off  with the nanotech-augmented assassin Bloodshot, then cue in the mentally-gifted cast of Harbinger, before bringing them all together in a Harbinger Wars adaptation.
John Wick's David Leitch & Chad Stahelski will handle the directing duties on Bloodshot, for a script from the mind of Kick Ass 2's Jeff Wadlow and Eric Heisserer who wrote Story of Your Life. Producing the films will be Neal H. Moritz and Toby Jaffe from Original Film (who you might know from some small, arthouse flicks called The Fast and the Furious), and Dinesh Shamdasani from Valiant Entertainment. Rounding things out, Matthew Vaughn and Jason Kothari will Executive Produce.
Overseeing the whole shooting match will be Andrea Giannetti, and it's going to be quite the ambitions project. We're talking two films each for Bloodshot and Harbinger, which will culminate in a fifth, Harbinger Wars. Valiant and Sony are taking their time with these, and not rushing in, which I think is a very good thing as audiences need to get to know the players before things go all-out in 'Wars.
All parties seem rightly pretty darn happy with the deal too.
"Valiant is one of the most successful publishers in the history of comics, and Neal is one of the best action producers in the business today. This is a formidable partnership that will bring two incredibly commercial franchises with global appeal together on the big screen," said Sony Entertainment Motion Picture Group President Doug Belgrad. "The long-term plan that begins with BLOODSHOT will be a considerable priority for Sony in the months and years to come."

"Bloodshot and Harbinger are two of the great untapped franchises anywhere in comics," said producer and founder of Original Film, Neal H. Moritz. "In partnership with Sony and Valiant, we look forward to building the next great generation of superhero films."

"Sony Pictures and Neal Moritz are the ideal partners to bring the world of Bloodshot and Harbinger to life," said Valiant CEO & Chief Creative Officer Dinesh Shamdasani. "They understand exactly what makes these characters tick and the exciting potential that they hold. These films are just the first step in partnership with Sony to bring Valiant's biggest heroes to new audiences worldwide."
That last bit right there from Shamdasani should get fans pretty excited. There's a ton and a half of promise there, and you have to have a good feeling about seeing some of Valiant's other big properties join the Harbinger cast and Bloodshot in the movies, presuming these films do well.
If I get X-O Manowar and Shadowman, I'll be ecstatic. Oh, and of course, it just wouldn't be Valiant if we didn't see the Ani-Padda brothers from The Eternal Warrior and Archer & Armstrong out there at some point too. So many heroes, so little time. Or, actually, make that plenty of time.
Bloodshot, which is scheduled to be the first of the films, is so far set for release into theaters in 2017. Somewhat of a painful wait, no?