Striker Eureka is heading to toy aisles courtesy of NECA toys.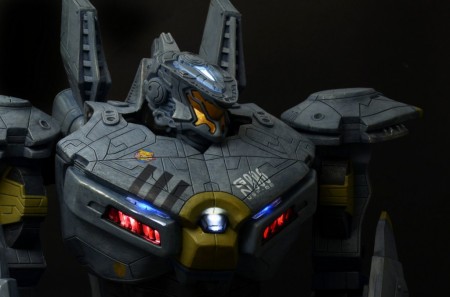 These things just keep getting cooler, and I'm not even a Pacific Rim fan. The latest Jaeger in the line of oversized Pacific Rim action figures from toy-maker NECA, Striker Eureka is 18″ of badass. If you're not in the loop on these guys, Jaegers are giant mechs that are manned by a pair of pilots who must think and act in unison to get the behemoths to fight, which is their main function. In the world of Pacific Rim, monstrous Kaiju (monsters) rise up from the sea floor to threaten mankind, the Jaegers are humanity's answer.
As far as toy lines go too, NECA has so far produced a gem of a series. Their Jaegers and Kaiju both are pretty epic. Case in point, Striker Eureka here. The figure sports the usual level of articulation and insane detailing that you'd expect from NECA, plus red and blue LED lights in its chest and head. And made from the actual digital files from the movie's special effects house ILM, you're sure to be getting as film-accurate of a replica as possible.
It looks like an awesome toy, and hey, it even includes the batteries. What more could you want? Striker Eureka starts arriving on store shelves and at online retailers next week.