Insight Editions launches an Iron Man volume dedicated to the Armored Avenger's world… or how he sees it anyway.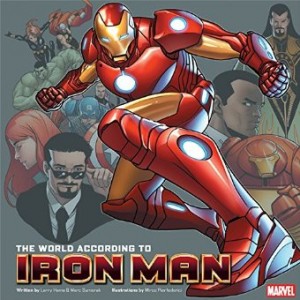 Much like their World According to Thor book, this new Iron Man-centric tome is an ode to Tony Stark's career as a hero and member of Marvel's number one super-team. Stretching from the origin of Iron Man (actually, before it even started) and going all the way up to just before the recent Inversion crossover event of last year, the book is pretty complete too.
So, with that said, what you'll find is the pre-inverted, decidedly non-Superior version of the character in The World According to Iron Man. And, to me anyway, that means that he's way less annoying of a character than he is currently in Marvel's comics. Yeah, I know it's not cool to say anything bad about Iron Man in any form, but I haven't been that big a fan of the character pretty much ever.
I was a 'sort of' fan of him in his pre-public identity days, from back in the 90s (modular armor!), but I haven't really followed the character in the modern age at all outside of the Marvel Cinematic Universe. I've seen all the Iron Man appearances there (even the dreadful Iron Man 3), and it's almost impossible to not enjoy the work that Robert Downey Jr has done with him. And although the black and gold armor is featured in this book from publisher Insight Editions though, there's plenty for fans of pretty much every era of the character to dig into.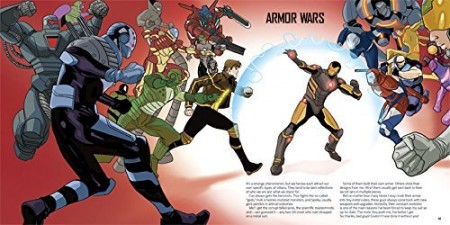 About that scope, if you're familiar with the Thor book, then you know what's on tap here. It's just a little more… down to Earth than that volume as Iron Man doesn't really get to Jotunheim all that often you know. And so this tale is one that's told completely on Earth and all about Iron Man, in his solo and Avengers adventures. The book opens with a letter from the man himself to fans, and the first example of the extras that the book is loaded up with- Tony Stark's business card.
Though these books aren't billed as 'vaults' exactly, they are packed with goodies for fans to check out, interact with, and otherwise enjoy. In this one, there's a pop-up Iron Man, a schematic of the armor, that aforementioned card, and a few other things. The extras add a lot to the book and are fun accompaniments to the 'story of Stark'.
It's a story that's told completely from the point of view of Tony himself, with writers Larry Hama and Marc Sumerak lending one of the most famous modern comic book stars a voice that's a mixture of the character that comic and movie fans both should know all too well. Actually, and it's to the scribes' credit, it was stunningly easy to hear the voice of Robert Downey Jr echoing in my noggin as I read this one. Since the actor has basically become Tony Stark, that's a good thing.
As you go through things in the book, Tony will fill you in about pretty much every major happening and character in his history, as well as some things that readers have likely never seen before, like mentions of his time at school and in the private sector. All of which happened before he donned the armor of old shell-head. Most of it is actually pretty neat and makes for a cool read, I imagine even more so if you're a big fan, and is intermixed with Iron Man happenings. There's even a glimpse of Fin Fang Foom (bet we'll never see him in a movie) and a solid description of why the Mandarin is truly Iron Man's greatest foe.
Everything looks pretty darn good too, with artwork coming from Mirco Pierfederici, who I hadn't heard of before I read The World According to Iron Man. Pierfederici has actually worked on some massive books from Marvel though, including X-Men, Wolverine, and Avengers, which is a pretty impressive list. And as you might imagine, his work here is classic comic book-type stuff. With a character like Iron Man, you'd want some big, bold illustrations in the cartoony style and that's exactly what Pierfederici delivers. At times his style runs right up against being so clean it comes off as a little simple, but it's fun and enjoyable and that's what counts.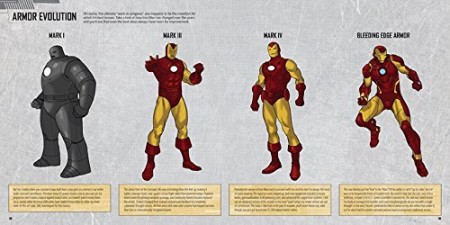 Final Thoughts
I didn't enjoy The World According to Iron Man as much as I did the Thor entry in the series, but again, that might be in part due to the fact that I'm just not that big of an Iron Man fan. I just don't consider his lore as abstract or as interesting as the God of Thunder's, so that's affected my enjoyment here.
If you are a fan though, I have a feeling that you'll definitely find plenty here to like.  This is the complete story of Iron Man after all, so if you're an armor-fan, chances are you'll dig the tale told here just fine.