DC Comics' biggest event of the year (actually, the last few years) finally kicks off with Convergence #0 in a pretty full week of notable releases.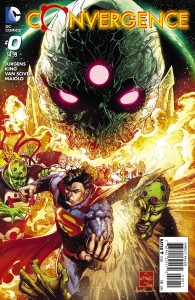 There are a pair of universe shattering events hitting the big two this Summer, and one of them is kicking off right now! Convergence #0 hit shops today and is a can't miss in every conceivable way if you're a DC fan, or you dig Superman in general, as the issue looks to focus on the Man of Steel in a big way.
Of course, but the time Convergence ends (after 8 issues), nearly every single major storyline and world that DC Comics has ever featured will tie into the event book. And that fact makes this a crossover that almost every current and lapsed DC fan will want to at least check out. It all starts here as Superman takes on a near-omnipotent Brainiac and his evil offspring.
While Marvel's big Secret Wars crossover hasn't quite gotten off the ground yet (though there is another lead-in book out this week), there is a massive release this week in the form of Uncanny Inhumans #1. Always a secondary (or maybe tertiary might be a better word) lineup of characters, the success of the Marvel Cinematic Universe has caused the publisher to start a push for the Inhumans in ways that they really have never done before.
The big resurgence starts here in Uncanny Inhumans #1, with the return of Black Bolt, the Inhuman king and leader of the team of the best-known of the faction. Look for Inhumanity to factor into the Marvel U in a very big way in the months and years to come, and it all starts here.
Those are the biggest and can't miss of the new releases this week, but as usual there are a ton more great comics hitting the racks today that you'd be ever so foolhardy to pass up on… well, according to me anyway. So my full selection is below in its entirety and presented for your perusal. And you can always click here to have a peek at Previews full lineup of the newest stuff out there if you need even more.
Marvel Comics
Uncanny Inhumans #1 – see above
Avengers #43 – 2 months till Time Runs Out!
Avengers: Rage of Ultron OGN – A standalone graphic novel features the classic Pym vs Ultron matchup.
Cyclops #12 – The Phoenix reborn?!
Punisher #17 – Frank takes on FalCap in a graveyard brawl in DC.
DC Comics
Convergence #0 – see above
Arkham Manor Endgame #1 – The madness of Endgame infects Arkham Manor.
Batman/Superman Annual #2 – With Supes' latest enemy defeated, Clark Kent finds himself a target.
Future's End #48 – Brother Eye is in this one and Brother Eye is awesome.
Sinestro Annual #1 – A traitor lurks in the new Sinestro Corps.
Wonder Woman #40 – Diana faces the perfect foe as writer Meredith Finch's massive arc comes to a close.
Dark Horse Comics
Hellboy and the B.P.R.D. 1952 #5 – Red takes on the horrors of the Portuguese fortress.
Witcher: Fox Children #1 – Geralt is trapped on a boat with the worst of the worst. And something horrible… of course.
IDW Publishing
G.I. Joe: A Real American Hero #212 – Serpentor returns- and the beginning of the end for Snake Eyes begins.
Millennium #3 – Frank is pulled back into the fray when the resurgent Millennium Group goes on the hunt for his daughter.
X-Files Season 10 #22 – The Syndicate is back and the end is coming. Part 2 of 'Elders' plays out here.
Valiant Comics
X-O Manowar #35 – Aric takes on Dead Hand and things are going to get explosive.