Valiant Comics' latest crossover, The Valiant comes to a close with a satisfying, if slightly rushed-feeling, fourth issue.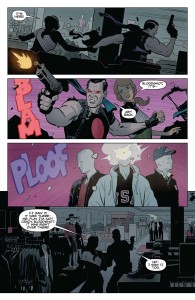 As event books go, The Valiant has been a wild ride. There's been tons of action set against the sentient force of evil that is the Immortal Enemy, and more than a few interesting developments with Bloodshot and the rest of the heroes of the united Valiant U, who all came together to try and stop the demonic… thing from killing the Geomancer.
The latest in the line of Geomancers, named Kay, took her rise in Archer & Armstrong originally, and she's basically a mage who safeguards the life-force of the Earth itself. Thing about the Immortal Enemy though, is that he doesn't much care for that, and has made an eternity out of finding and killing various Geomancers that have been birthed.
As the Valiant heroes have come together, led by The Eternal Warrior (who has a very long history with the Enemy), they find that even with all their vaunted powers and abilities, they really can't do much against this thing. The Immortal Enemy is a force of Nature in some ways, and here in the fourth issue of The Valiant, the heroes are really up against a wall.
The Enemy has Bloodshot and Kay trapped, with Gilad (the Eternal Warrior) and the rest of his team a ways away. He's right on the verge of winning, and that's where this issue picks up. As to where it ends, I won't be spoiling anything here. I will say though, that there are no shortage of big moments and the ending has an impact that should be felt for some time to come in the Valiant Universe.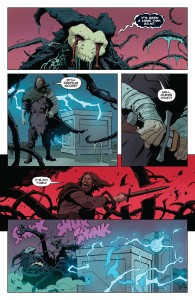 Telling the end of this tale are writers Matt Kindt and Jeff Lemire. Both men are top notch scribes and Valiant Comics mainstays who fans should be very familiar with. Most of the time, you're not going to find too much fault with either of their work.
Here though, things felt a little rushed to me. The midsection-to-end of the book seemed to be hurried in order to get all the main story points in before the last page. Part of why this is, is the way the narrative itself it structured, as it kind of works towards the conclusion in a way that is meant to be a shocker in more than one way. In that sense, it does succeed, but I thought a little more time and a little more buildup would have been even better.
This isn't a huge knock though, as I said at the very top of this review, this is a satisfying book, it just could have been even more so with just a little… more. Maybe even another issue's worth? Though that could be seen as a plus as it basically means that I wanted more out of The Valiant's conclusion. So I don't really know if that's good or bad.
Definitely not bad though is the artwork by Paolo Rivera. The artist has made one fantastic looking book out of The Valiant. The story shone in just about every way you could imagine behind Rivera's art, which is a near perfect mix of realism and comic sensibility. It's just great and I loved it all the way through. Kudos too, to the door work, which is as stunning as always in Valiant's comics.
Final Thoughts
It's hard to be too tough on The Valiant #4 as the comic gets so much right and does so may cool things, particularly with Bloodshot who's just beyond a badass here, and really becoming a rival to X-O Manowar as the top dog in the universe.
It's an enjoyable ending to one of the best event books in recent years too, one of Valiant's best overall actually, and downright shocking in several places. It succeeds and excels in so many places. Again though, I really just wish there was more of it. Your call as to whether that's a good thing.