The remake of Shin Megami Tensei now has even more goodies added to its launch edition.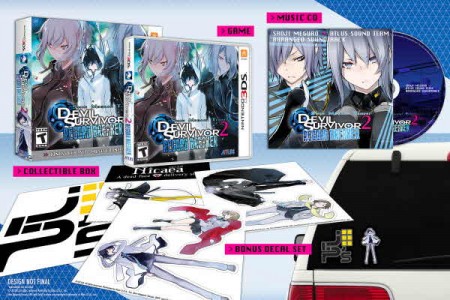 Not that it looks like a bad game taken at face value, as Shin Megami Tensei: Devil Survivor 2 Record Breaker is actually shaping up to be a pretty impressive-looking update of the original, but adding stuff to the pre-order/launch edition is never a bad idea. And this thing is looking very well stocked indeed for not all that bad of a price.
Shipping with a collectible box and a soundtrack CD (with arrangement by Shoji Meguro himself), there was already a lot there for series fans to like, and now publisher Atlus has added some nifty stickers to the mix. Perfect for showing your SMT love on your lappy, tablet case, or whatever else you can think of,  these labels have characters like "the protagonist, Io, Daichi, Yamato, and Miyako–as well as logos for the death video website Nicaea and the paramilitary organization JP's" emblazoned across them, so they're pretty cool no matter what kind of an SMT fan you are.
As for the game itself, you can expect over 30 hours of play time, Street and Spotpass compatibility, a fully voiced script, and a brand new "Triangulum" story arc. So even if you've played the original to death, there's plenty to hook you in again.
Shin Megami Tensei: Devil Survivor 2 Record Breaker arrives on the Nintendo 3DS on May 5th and will cost you $49.99 USD.