The official gameplay video for The Witcher 3: The Wild Hunt has been released.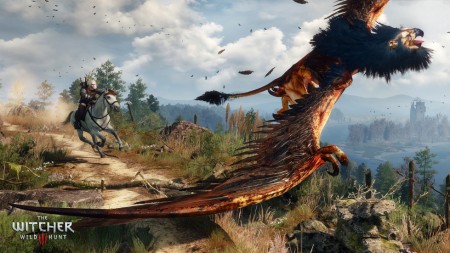 The video is seven minutes of new gameplay from CD Projekt RED's The Witcher 3: The Wild Hunt. Since E3 of 2014, the previous video has been of Geralt hunting a Griffin. In this video, we see Geralt tracking the creature through the swamp where he meets a Golem-like character who talks in riddles. This has been a popular video for the past year and now CD Projkt RED has released a new gameplay trailer.
In the new trailer, Geralt is seen trekking through an area known as No Man's Land. Geralt is in here because there has been rumors of an evil presence attacking a popular trade route as well as a small village. It is up to Geralt to solve the mystery of the evil presence and save the village and trade route.
It seems as though a Royal Wyvern has taken up residence in a near bye cave and is harassing traders on a popular route as well as harassing the villagers of a small town. Geralt tracks the monster to a small Cliffside where the final conformation takes place. The gameplay video does a great job of showcasing some of Geralt's magic attacks as well as the combat system. The Witcher 3: The Wild Hunt will be available May 19 for Xbox One, PC and Playstation 4.
Make sure to followme for all your Xbox news @docbrown303