From the development team of Red Bedlam and Standfast Interactive comes the genre hopping FPS, Bedlam: The Game.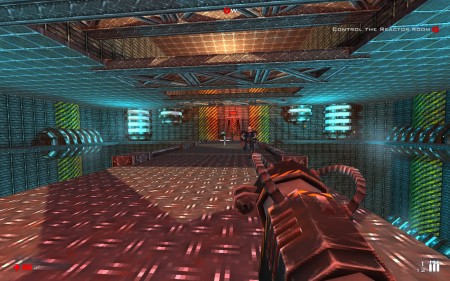 Meet Heather Quinn, the protagonist in Bedlam. She works for the medical company, Neurosphere. Quinn is a programmer working on a new brain-scanning technology. One day Quinn decides to volunteer to test the equipment. She wakes up after the procedure in a strange new place.
Players take control of Quinn after she has awaken in a new location. She is in an action packed FPS from the 1990's called, "Starfire." Quinn is familiar with this game as she use to play it back when she was a teenager. "Starfire" looks like a FPS from the 1990's with its outdated graphics. Players will help Quinn unravel the mysteries as she jumps from genre to genre.
Battle the undead Germans in a giant castle as Quinn must make her way through the different levels as she tries to find a way home. Survive on a red planet where hell has been unleashed or fight against the pixelated invaders from space. So get ready to explore the Gameverse with Quinn as she tries to figure out the mysteries surrounding Neurosphere, The Gameverse and herself.
Get ready to travel through the gameverse when Bedlam: The Game is released on Xbox One. Players can find Bedlam: The Game currently on Steam. A console release is scheduled for Q2 2015.
Follow me on Twitter for all your Xbox news @docbrown303