The brand new, not to mention even darker and more violent, installment of the classic fighting game series Mortal Kombat is almost here and peripheral-maker PDP has a pair of controllers ready for release to mark the occasion.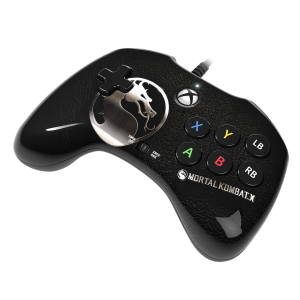 As you can see, this is one good looking controller. Though some may prefer a joystick for fighting games, I've always been way more of a gamepad guy and this one looks pretty darn slick. Crafted in the classic six-button design, just like the old Sega Genesis controller, PDP's Mortal Kombat X pads also have top-mounted L and R buttons, a nice looking D-pad, and of course central-mounted PS or Xbox buttons. It's also lopsided to the left to better allow freedom of movement as you try and pull off combos and special moves.
All six of the face buttons also make use of micro-switches, so that you can get all the "tactile and audible feedback" you want while you're playing NetherRealm's newest, or any other fighter really. But while you can definitely make use of this wired controller for pretty much any fighting game out there, it is officially licensed by Warner Bros (who publishes the MK series now) and both Sony and Microsoft, so it has that nifty MK dragon logo splashed across it and the 'Mortal Kombat X' lettering at the bottom.
The pad ships in two flavors; one that is compatible with the Xbox One, Xbox 360, and PC, and one that'll work with your PS3 and PS4. That's actually pretty great too, since you can make use of one controller across two or three different platforms.
Hitting stores right around the official release date of Mortal Kombat X (April 14th), the The Mortal Kombat X Wired Fight Pads will cost you $49.99 USD each.