Fans of the Teenage Mutant Ninja Turtles have a lot to get excited about this year, as Playmates Toys takes the teens on a trip through the home world of the Kraangs, Dimension X.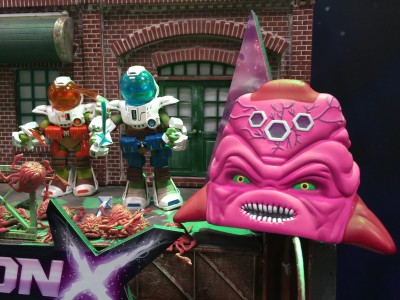 That's one big Kraang right there.
If you watch the current cartoon version of the Turtles, then you already know all about Dimension X, the Kraang (the latest show's envisioning of the alien baddies from the original series) and the incursions of the brain-like creatures into our world.
What you might not know though, is that the upcoming new season of the 'toon will focus on the Kraang's home world in Dimension X, and will be sending the TMNT there to take the fight to them. Playmates Toys promises that there'll be a focus on that storyline reflected in their toy line, including the figures that you see above and in the gallery below. That Kraang Prime is really nicely done, and sports some terrific paint app and sculpting. And his shape (he's kind of flat) sort of makes me wonder if there's a robot body coming for him to sit in… we shall see.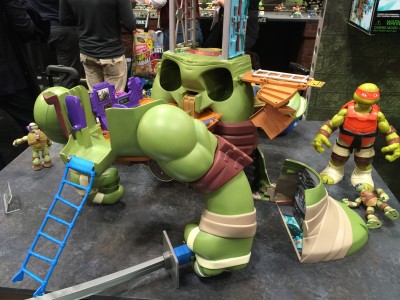 Speaking of massive figures, the 24″ (that's two feet tall folks) Leonardo that turns into a platset is really something to behold. In figure form, Leo looks pretty awesome and would instantly make a TMNT display all that much cooler, and in playset mode, he provides a bunch of different play areas that fit the standard figures form the base line. It's pretty incredible how Playmates managed to make this guy work and, even though the playset mode is a little bit awkward looking, it's undeniably cool to see.
Also worth a mention, as long as we're talking about playsets, the classic sewer lair set has gotten an overhaul for 2015 and has a new paint scheme that makes it look really different than what's out there right now. I don't know if it's worth it to grab one if you already have the original, but for those who passed the first time around, you might want to give it a serious look now with the redeco. I had no idea how monstrous this thing actually is, and with the new apps, I think it'll probably be finding a spot in my collection… if I have the room that is.
That's very far from all that Playmates had on display at Toy Fair though, as there were transforming vehicles, role-play sets, mini-cars and tracks, and tons more. Have a look through the gallery below for the full tale of the Turtle.