So Secret Wars: Battleworld looks… interesting.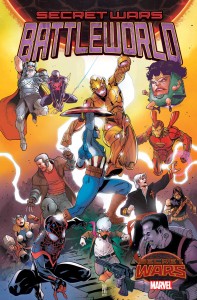 This is mainly an overflow title from the sounds of it. And by that I mean, extra stories that build upon the main Secret Wars arc, but aren't really integral to it, will be featured here. Case in point, the first issue features Dr Strange possessing the Punisher and being hunted down by the '90 fill-in Fantastic Four team of the Ghost Rider, Spider-Man, Hulk, and Wolverine. The backup story? M.O.D.O.K. recruits every other M.O.D.O.K. from across Battleworld for an evil scheme he (it?) dubs F.I.G.H.T. Yup, this one's going to get weird.
"The weirder and more fun, the better" says series editor Jon Moisan of the tone of the series in an interview with Marvel.com. "You want to see the 1602 version of the Punisher fight the 2099 version of Iron Man? Muskets versus the 1990s version of the future! We can even have the same characters from different worlds fight. I'm sure readers have been dreaming of seeing a dozen different versions of Howard the Duck fight. Well, guess what? It's completely possible in SECRET WARS: BATTLEWORLD!"
Yeah I've been… dreaming of that one alright. Marvel is promising that same kind of weirdness in every issue of Battleworld, along with something else- wall to wall action. So if you're in for that kind of thing (and, again, all the weird), grab the first issue of Secret Wars: Battleworld #1 when it hits the stands from the team of Josh Williamson, Ed Brisson, Mike Henderson, and Scott Hepburn.