Fresh from the DC Comics book that features a cute 'Lil' version of dark and gritty Gotham City, Kotobukiya has a series of figures set for retail.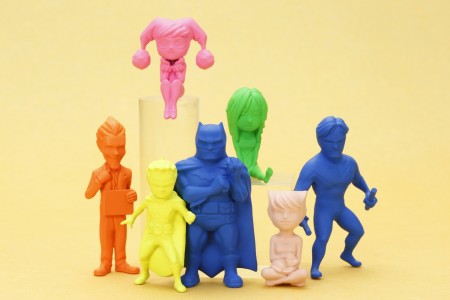 As you can see, the figures are cast in solid colors (6 variations in total), and they'll also be sold in blind-bags with two figures to a bag. The idea here is that you can mix and match and trade them with friends till you amass a full set.
Blind bag assortments are already used by a host of toy-makers, and seem to be pretty popular with toy collectors as there's more than a little fun to be had in not knowing exactly what you're getting when you buy a bag. And while the figures are cast in one color, I have to wonder how difficult it would be to paint them up if you should so desire. Bears investigating.
Included here in the first set will be some really cool sculpts for the super-deformed Lil' Gotham cast too. We'll be getting Batman of course, but also the Damien Wayne version of Robin, Nightwing, Catwoman, Joker, Poison Ivy, and Harley Quinn. For first series' that's a pretty great lineup and should make for some nice little (literally) desktop displays.
Each figure is a bit less than 2″ tall and they should be arriving at retail some time this year.