Naughty Dog's PlayStation exclusive series is about to get an art book from Dark Horse that will explore the first three games.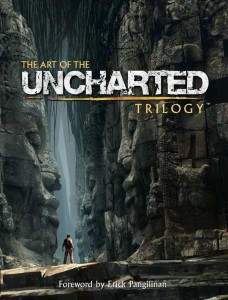 Uncharted 4 is on the mind of many a gamer these days, and this should be a nice hold-over for series fans till that game finally hits the PS4. Following up on the recently released Art of The Last of Us and The Art of Naughty Dog, The Art of the Uncharted Trilogy is set to hit bookshelves this April from Dark Horse, who has a pretty awesome track record with these kinds of tomes.
A breathtaking, comprehensive exploration into the critically acclaimed UNCHARTED™ video game franchise, The Art of the UNCHARTED Trilogy offers a detailed look at the art of one of the most exciting game series of this generation. Filled with never-before-seen art from Naughty Dog spanning UNCHARTED: Drake's Fortune™, UNCHARTED 2: Among Thieves™, and UNCHARTED 3: Drake's Deception™, with insightful commentary from the games' creators, this epic volume is an incredible opportunity to own a piece of UNCHARTED history.

"With each UNCHARTED game we make we strive to set a new bar for video game art, design, and tech," said Erick Pangilinan, art director at Naughty Dog. "This book is an inside look at our creative process, the technology, and the artistry that goes into making Nathan Drake's adventures come to life. Fans of the series and art in general will find many hidden treasures in this book."
Interested yet? If you read any of Dark Horse's books like The Art of BioShock Infinite or Hyrule Historia, then yeah I'd imagine you are. The Art of the Uncharted Trilogy hits in April, and will cost you $39.99 USD, you can pre-order it right now and secure yourself a copy from from Amazon, Barnes & Noble, orIndieBound.