Allied with heroes like Batman and a member of the Justice League Dark, Zatanna is one of the most powerful magic-welders in DC Comics, and now she's a part of the Bishoujo line of collectible statues from Kotobukiya.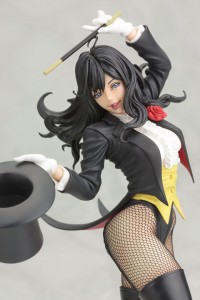 If you're not familiar with the Bishoujo series of statues from the company, it's basically a 'bombshell' kind of series that features the sexier characters from DC's comics library, but with an anime bent to the styling. As you can see from Zatanna here, she's actually pretty darn comic-accurate in her costuming and form, but her overall design has that over-exagerated anime look and definitely sports an Eastern influence, which isn't something that you're probably used to seeing with this character.
As for the character herself, Zatanna has come into her own more in the New 52 rebooted DCU than ever before and is a member of the Justice League Dark, an assemblage of DC's best magical characters who battle the more mystical forces of evil. The team counts 'heroes' like John Constantine, Deadman, Jason Blood, and others among its membership and is a pretty solid read, month-in and month-out.
The Bishoujo of Zatanna comes dressed in her on-stage costume (she's also a stage magician in the comics) and is posed with her hat and wand, just about to cast one of her trademark 'backward' spells. Sculpted by illustrator Shunya Yamashita, she looks pretty spectacular too and there looks to be an impressive amount of work done on her outfit.
Standing in at just shy of 10″, this is a pretty nicely sized statue as well, and should stand out pretty well among your collection, or set next to some Justice League Dark graphic novels on your bookshelf. The latest addition to the Bishoujo line, Zatanna Zatara will be on the shelves of your favorite comics shop and available online this coming July, she'll cost you $69.99 USD.