In the house this weekend with a cool giveaway and some great incentives for raising a little cash for the charity group, Operation Supply Drop is ready to rock PAX South.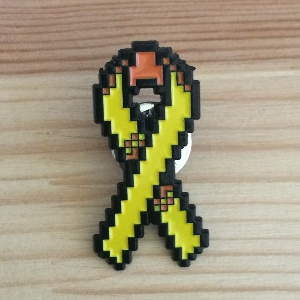 Firstly, Operation Supply Drop is a charitable group that we've talked up quite a bit before here on BG. The group raises funds and drops gaming goods like consoles and software into US military hospitals and camps around the world. It's all in the name of fun, and to give US soldiers a little cheer, sometimes when they need it the most. And right now they've got some very cool promo's going to motivate you into giving to the cause.
Right now through February 10th, if you generate $15 USD for Operation Supply Drop, you'll be sent a super cool 8-bit style yellow ribbon pin. Raise just a bit more and hit $35 and you'll not only nab that pin, but also an Operation Supply Drop tee (check out the goods in the gallery below). Do a little good for some troopers abroad, and get a little something for yourself- what's not to like about that?
And if you're looking to go to PAX South this weekend, there's even more good news. The group will be giving away a GAEMS Vanguard Case right on the show floor. If you don't know what that is, it's basically a TV in a suitcase that you can hook pretty much any console with an HDMI output up to and carry it around with you. Yes, that's awesome. And that's not all as they'll also be giving away a bunch of Neon PC-edition A40 headsets from Astro.
Hit booth #1768 on the show floor today through this Sunday the 25th, and give the guys and gals there as many push-ups as you can muster to enter the competition for the case. For a little physical exertion, you just might walk out of the show with an awesome prize.