Now this is a book with braaaaainsssss…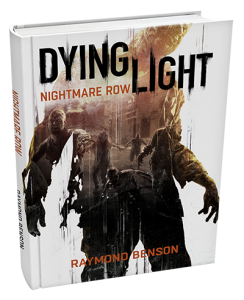 Dying Light might not have hit stores yet for consoles and the PC, but Techland's latest zombie horror game is already getting an expansion, courtesy of writer Raymond Benson. You might know Benson's work if you're a fan of the spy-game as he's penned a number of books including "the official follow-up" novels for the James Bond series from the estate of Bond-creator Ian Flemming. That's a pretty sharp pedigree right there.
With that kind of background though, you might be wondering where the undead fit in. Well, according to Benson, it's always been something of interest to him that he wanted to give a shot.
"Writing the origin story for DYING LIGHT was an exciting adventure for me," says Benson. "I'd always wanted to try my hand at a zombie-genre tale and this gave me the perfect opportunity. The folks at Techland created a rich and intriguingly bleak setting for the game, so that gave me a wonderful and creepy world in which to play around.  All fans of zombie fiction, gamers and readers alike, are in for a real treat."
And just what is that story? Dying Light: Nightmare Row tells a very different tale than that of the upcoming game, this one focusing on a pair of young Americans trapped in the rotting country that harbors the hideous infestation of the recently un-dead…
Dying Light: Nightmare Row tells the terrifying story of Mel Wyatt, an 18-year-old American athlete who participated in the Harran 2015 Global Athletic Games two weeks earlier. As one of many Americans stranded in Harran as a result of the outbreak, Mel has been surviving with her little brother, Paul, in an isolated hotel – their parents were killed on the first day of the Infected attacks on the stadium. Thus begins a tense and ticking time bomb thriller of survival.
Sounds suitably creepy, no? There's no release date as of yet for the book, or price tag for that matter, but news will be forthcoming and we'll have it for you as soon as it is. As for Dying Light the game, that's still on the way to the PS4, Xbox One, and PC on the 27th of this month in the US and on the 30th in Europe.