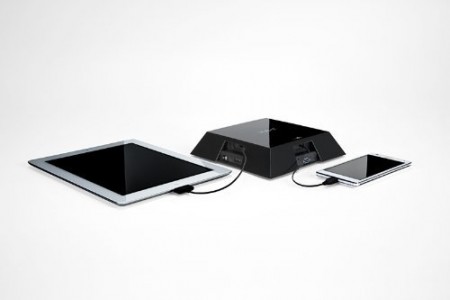 Ah, electronics. They are so very wonderful – and their cords are such a pain in the butt. By the time you've set up a charger for your smartphone, Suzie's tablet, little Johnny's iPod, and your spouse's digital camera, you have a veritable maze of cords that just love to get tangled and/or lost. There has to be a better solution, something fairly compact that offers customization for all your charging needs without breaking the bank.
The HUB IT Sync & Charge Station is the answer to your cord OCD prayers. No more will you freak out over a mass of jumbled cords, desperately seeking the charger your beloved electronic needs, because the HUB IT keeps everything perfectly in place until you need it, and retractable cords means you don't even have to look at unsightly cords when they aren't in use.  So what is exactly is the HUB IT? It's an all in one charging station, able to charge up to seven devices at once, and the best part is that it is quite easily customized to suit your needs. It has four retractable cords for charging (one on each side), as well as three additional USB ports, meaning you can charge a ton of devices at one time. It's great for tech obsessed families or quick charging for the office, and your friends and family will love not having to lug their chargers around when they come over to visit. Add in the fact that it charges significantly faster than your average charger and you have a winner.
Out of the box, the HUB IT comes with mini USB, micro USB, and both old and new generation iOs chargers, so you're pretty much covered for all the standard needs. But, say you're a diehard Apple family and really just want all Apple Lightning chargers. Or maybe you want to be able to plug in your Galaxy Tab and your Vita, or even your kid's Dsi. One of the more consumer friendly aspects of the HUB IT is that it is incredibly customizable. By simply popping the top of the device, you can customize all four charging ports – both by moving your most used chargers into convenient places and by replacing the included chargers with ones you'll use more. Additional cartridges cost under eight bucks a piece, giving you the option to make your HUB IT exactly how you want it without breaking the bank.
In addition to the four slots that hold the charging cords, there are another four spaces to add more HUB IT cartridges if you like. You can get a battery cartridge, if you want to be able to charge without the adaptor, and there's even a Qi wireless cartridge, which allows you to charge your Qi enabled devices simply by placing them on the HUB IT. As if being able to speed charge seven different devices at the same time isn't enough, you can also sync multiple devices to your computer simultaneously with the HUB IT, and charge them at the same time too. It's just a super convenient alternative to the standard jumble of cords most of us currently have laying around.
As far as aesthetics go, the HUB IT Sync & Charge Station is pretty low profile. It's a sleek black with gloss finish, measuring just under six inches square. It's only about an inch and a half tall though, so it's pretty unobtrusive – and you can safely rest charging devices right on top of it to save on space. While that may be larger than your average hub, it more than makes up for it in utility, as it mostly eliminates the need for other chargers. The retractable cords on the included chargers was one of my favorite features (I really hate cords laying out), but I found they often don't retract very well. They are fairly short too, so that's something to keep in mind if you like to play and charge.
Overall, I found the HUB IT Sync & Charge Station to be an impressive device, with pretty much everything you could ask for in a hub (and probably a few things you'd never think to ask for as well). The options for customization are very consumer friendly, and additional cartridges are quite affordable. Being able to charge and sync multiple devices simultaneously is really convenient – and it's fast too. While the retractable cords aren't always as retractable as they should be, it's a small annoyance. Being able to replace the jumble of cords with one sleek device that is easily suited to your needs makes the HUB IT worth every penny of its purchase price.