If you're in Manhattan next week, you can get your hands on some exclusive covers for Star Wars #1 and take home a signature to boot.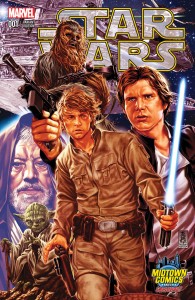 Kind of a big deal, is Star Wars returning to Marvel Comics. The publisher started the Star Wars comic book train years ago, before losing the license to Dark Horse. With parent company Disney's acquisition of Lucasfilm though, Star Wars has finally headed home and Marvel plans on doing it up as much as s humanly possible.
Set for next week, in NYC, are a pair of high-profile signings. Midtown Comics, one of the biggest comic books shops in the City who also has outposts in Toys R Us Times Square and FAO Schwartz, will be sponsoring the event, which will take place at Midtown Comics' downtown location, at 64 Fulton Street. You'll be able to get a special variant cover to Star Wars #1, as well as autographs from the book's writer and artist, Jason Aaron and John Cassaday.
Things will kick off on Thursday, January 15th from 6pm to 8pm, which is a day after the book hits racks across the country. And if you're a fan of variant covers, you should be in heaven as you'll also be able to nab not just the alt first issue, but also a pre-order for the rest of the trio of interconnected covers. In all, alternate versions of Star Wars #1, Darth Vader #1, and Princess Leia #1 are all on the way and will be exclusive to the storm, as all were commissioned by Midtown from artist Mark Brooks to mark the launch.