Free movies and TV shows on the Xbox One? Sounds pretty good to me.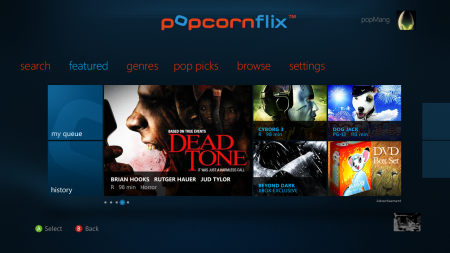 "Today, people have more programming options available than ever before, and we're proud to offer quality content for free to a worldwide audience via the Xbox One platform," said David Fannon, Executive Vice President at Popcornflix. "Popcornflix is changing the way people view entertainment with movies and popular television shows available anytime, completely free."
Yes, free as in free. Screen Media Ventures' Popcornflix has a pretty full lineup of shows and movies that should have a broad appeal to folks looking for some on the house entertainment. The network is 100% ad-supported, so gamers (and viewers) don't pay to watch, which is pretty neat.
On the channel, which is now available on the Xbox One, you'll find classic shows like The Man Show (which I think pretty much everyone has watched at one point) and Cheaters as well as movies based on games like Far Cry and Bloodrayne. Some of this stuff is fun and some of it's pretty fun to poke fun at (like Far Cry, ahem) , but all of it's free.
Also free, and new too, is the channel's Popcornflix Kids section. This new portal should especially come in handy at this time of year and offers stuff like Big Comfy Couch, seasonal shows like The Nutcracker, and classic cartoons like that spinach-eating sailor man, Popeye. All in all, it's kind of a win-win.
Aside from the Xbox One, Popcornflix is available on the Xbox 360, Roku, Google TV, Android, iOS, Smart TVs from Samsung and Panasonic, and the web. PS4 gamers can look forward to getting the channel on their consoles as well, in early 2015.