If you're thinking that it was just 'Fall sale' time, you're right, but these are a whole new DRM-free set of discount days at GOG.com.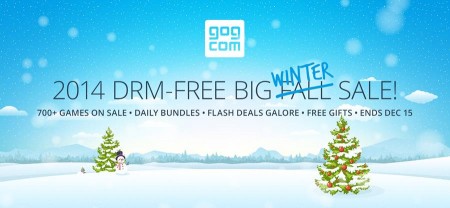 If you've shopped sales on GOG.com before, then you know what to expect. And by that I mean massive discounts on DRM (digital rights management) free games, available both in bundles and separately. This particular sale is kicking off with a bang with a free copy of Age of Wonders (if you get there before the allotment of codes are gone) and a bunch of big name bundle packs.
As of this writing, The Witcher titles are a monster 85% off the usual price, the complete Stalker series is only $12.47 USD, and the Ultimate D&D collection is a paltry $21.10 USD- that's for 10 gigantic RPG's by the way. See what I meant about it kicking off with a bang?
The Frosty Flash Frenzy portion of the sale will be ongoing for only 48 hours, with a rotation of 30 deals hitting every hour of that time period. It's not a lengthy sale, but it's a darn good one where you could pick up a load of games for just a little tiny bit of cash. After that, you can expect to see more deals hitting, including more bundles and special offers.
The whole thing will run until the 15th of this month, during which time, you could amass quite the haul. Click here to get in on it. You know you can't resist a good deal…