Late Autumn is turning out to be quite a season in the comics world as big stuff continues to roll out from the major publishers, and more than a few smaller releases hit 'can't miss' level.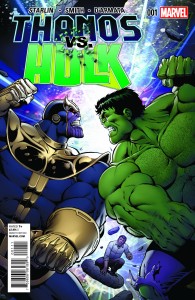 For starters this coming week, there are a couple of launches that you definitely will want to keep an eye out for. Secret Six #1 brings writer Gail Simone's team of former villains into the New 52 DC Universe in a big way that should leave fans happy, Hellboy and the B.P.R.D. #1 launches a new mini-series that retells Hellboy's first mission with the enigmatic government agency, Angela: Asgard's Assassin #1 casts the former Image Comics character in her own solo book, and Escape from New York debuts a brand new series from Boom Studios. Snake Plisskin fans should not miss out on that one.
There's also the Thanos vs Hulk mini-series that opens up this week with a first issue (of 4). That book's been in the offing for a while and should be pretty hotly anticipated by an follower of Marvel's more cosmic side as there's a good number of characters in it that haven't been seen in a major way in a while (Adam Warlock anyone?).
And if none of that piqued your interest, well, you're picky. But even so, I'm sure there's something this week to get you into the old local comics shop. Have a look below for my complete picks and then hit the link for the full Previews listing for what's on the way this first week of December.
Marvel Comics
Thanos vs Hulk #1 – see above
X-Men Inferno Prologue (hardcover) – The complete prolog to the classic Inferno crossover. Good stuff to be had here including one of the most iconic X-Men teams, X-Factor, and Apocalypse's sentient ship.
DC Comics
Batman Eternal #35 – Have the GCPD finally caught up tot eh Dark Knight? Batman Eternal continues it's excellent run here.
Green Lantern #37 – Hal teams with his mortal enemy, Black Hand, in an effort to stem the tide of the New Gods as Godhead continues.
Justice League 3000 #12 – Booster Gold and the Blue Beetle guest star. Yes, you have to buy this now.
Future's End #31 – Big changes as the endgame begins.
Secret Six #1 – see above
Sinestro #7 – Godhead continues in the yellow-hued pages of Sinestro, as the wielder of the fear power ring sets his sights on New Genesis.
Dark Horse Comics
Alien vs Predator: Fire and Stone #3 – Things are heating up as an accelerant-fueled Predator threatens not only the xenomorphs, but his own hunting party.
Hellboy and the B.P.R.D. #1 – see above
IDW Publishing
The X-Files Season 10 #19 – A new two-part arc kicks off that brings Mulder  back to his academy days, and revisits the relationship between his father and CSM.