Summer 2015 is going to be a big one for fans of Diamond Select's Minimates line, but the little figures are far from all that the company has in store.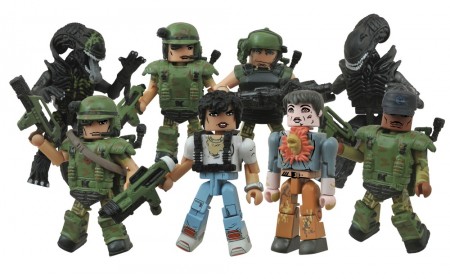 As you can see, the new series of Aliens Minimates is kind of awesome. Okay, it's all kinds of awesome actually, and probably is already on a few fans wish lists for this coming Summer. As if the chestburster wasn't enough- Apone makes this a set to have. There's lots more waiting to take your cash in the warmer months of 2015 though, including a series of Minimates based on the upcoming Avengers: Age of Ultron feature film, a new Marvel Select Hulk, more Walking Dead 'Mates, and the first series of Dragon Age Minimates!
Oh, and for those looking for some possible light Age of Ultron spoilers, you might want to check out the description on those Minimates below. Iron Legion? Multiple Ultrons? Says a bit about where the film might be heading.
All in all, it should be a pretty happy time for fans of DST's bigger licenses, not just Marvel fans. Here's what's on tap: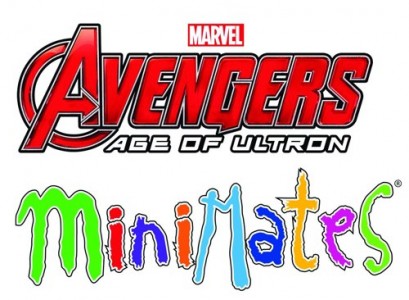 Marvel Minimates Avengers Age of Ultron Movie Single Pack Display – A Diamond Select Toys release! For a movie as big as "Avengers: Age of Ultron," one assortment is not enough! This colorful countertop display holds 18 individually blind-bagged Minimates based on the movie, including multiple types of Ultrons, Iron Man's Iron Legion, plus one-per-case Minimates of Baron Strucker and Nick Fury! Every bag contains one 2-inch Minimate mini-figure, featuring 14 points of articulation and interchangeable parts. (Item #DEC142220, SRP: $5.99/ea.) http://www.diamondselecttoys.com/marvel-minimates-avengers-age-of-ultron-movie-single-pack-display
 Marvel Select Avengers Age of Ultron Movie Hulk Action Figure – A Diamond Select Toys release! Hulk smash puny toys! The Hulk returns in a new look for "Avengers: Age of Ultron," and DST is revisiting their award-winning action figure from the first Avengers movie with all-new sculpted details! Standing almost 10 inches tall, this Hulk figure sports 16 points of articulation and a spot-on likeness of the Hulk from the film, and comes packaged in Select-style display packaging, with spine artwork for shelf reference. Sculpted by Gentle Giant! (Item #DEC142218, SRP: $24.99) http://www.diamondselecttoys.com/marvel-select-avengers-age-of-ultron-movie-hulk-action-figure
Walking Dead Minimates Series 7 Asst. – A Diamond Select Toys release! The newest series of Walking Dead Minimates is here, and this time it's war! Featuring characters from more recent issues of the hit comic book series, this assortment includes three different two-packs: Rick with Jesus, Negan with Dwight, and Hunters leader Chris with Zombie Holly, plus a one-per-case variant set of Scavengers leader Derek with Zombie Holly. Each 2-inch Minimate mini-figure features 14 points of articulation and interchangeable parts and accessories, including an alternate head for Holly. Packaged in a full-color window box. (Item #DEC142212, SRP: $9.99/ea.) http://www.diamondselecttoys.com/walking-dead-minimates-series-7-asst
Find your nearest comic shop at http://bit.ly/findcomicshop