One:12 Collective's incredible looking Batman figure from The Dark Knight Returns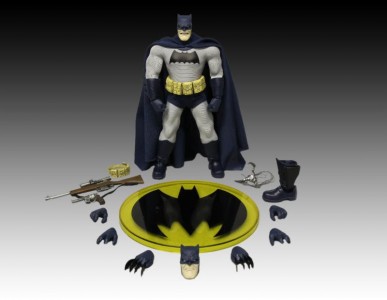 If you've been following our coverage of One:12 Collective's Dark Knight Returns figure from Mezco, then you already are well aware of how awesome it is. The figure is amazingly detailed and has some stunning capability for posing (over 30 points of articulation) as well as a plethora of extra parts and accessories, all of which relate directly to the landmark Dark Knight Returns story from Frank Miller back in the '80s.
Now Mezco has announced a special edition of the toy, which will be available exclusively on MezcoToyz.com. Dressed in a unique dark blue and gray costume, Batman comes complete with:
One- alternate head
One- pair of fists
One- pair of "holding" hands
One- pair of posing hands
One- pair of "Batarang" hands
One- interchangeable boot with pistol holster
One- pistol
One- sniper rifle
One- removable utility belt
One- removable leg utility belt
One- grappling hook with climbing rope
One- Bat-symbol display base
One- articulated figure stand for multiple dynamic figure poses
One- detachable cape-posing accessory clip for posing stand
If you want one, you better be quick though, as this special edition of the Dark Knight Returns Batman will be available on MezcoToyz.com starting on November 28th, which is of course… Black Friday.