The first in the new Halo-branded series from collectible and replica maker Project TriForce are Elite and  Brute Plasma Rifles.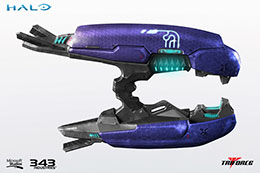 As a fan of the property myself, I was pretty excited to see what TriForce was cooking up for the first release in their new Halo series of replicas. And that question was answered a few days ago as the company officially unveiled their new models of the Elite and Brute Plasma Rifles.
Limited to just 500 pieces, the rifles are cast in polystone, weigh a hefty 20 pounds, and have 'full size' dimensions as they're set to be 14″ high, 6″ deep, and x 24.5″ in length. As usual with TriForce, they're also kitted out in game-accurate colors and have lighting built-in, so they'll light up just like the ones used in the Halo games.
The company is taking reserves on the pieces right now for $150.00 USD, which will come off of the final price of $600.00 USD when they arrive for shipping in quarter 3, 2015. If you'd like to take a look for yourself and maybe pick up an early Holiday gift for yourself (or someone else… I guess) click here.