Ever crack open a book and instantly know you're going to love it? This one's kind of like that.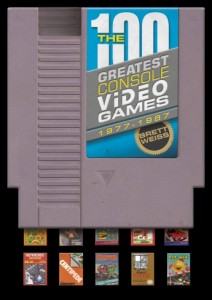 I've read a lot of art books showcasing comic books, and I'm a pretty big fan of 'collector's' tomes (you know, the ones that detail the 'making of' something), as well as those of the coffee table variety (though I don't have one that actually turns into a coffee table).
While there are a ton of books like that for comics and even movies really, there just aren't that many of them for games. Well, not yet anyway.
Dark Horse Comics has published a growing number art volumes for games like BioShock Infinite and The Evil Within, but they're few and far between when it comes to books that simply celebrate the art form, and not one game (or a series of games) individually.
Fortunately, The 100 Greatest Console Video Games 1977 – 1987 from author Brett Weiss is a solid step towards changing that status quo. Not only is this one a fun read, but it's pretty informative too. It's got plenty to pour over and learn, even for those who consider themselves students of the medium.
And it scores points right off the jump for featuring artwork from the Atari classics Solar Fox and Moon Patrol right in the inside cover. Moon Patrol being the first video game that I can remember playing, I'm inclined to like that little detail quite a bit.
The book details the rise and fall of the early industry in what really was gaming's golden age; albeit a slightly broken up one. From 1977 through 1987, the industry on the whole rose to tremendous heights and cemented itself as a real force in the entertainment industry. This era laid the groundwork for the juggernaut that it's become today, though it wasn't without a few pitfalls (no pun intended).
Author Brett Weiss really doesn't get too deep into the rise, fall, and rebirth of gaming though; that's not what The 100 Greatest Console Video Games 1977 – 1987 is about. Sure it showcases games from the decade in its title, but it doesn't harp on the business end of things and is instead a celebration of the 100 games that the author has selected to look at first and foremost. And in that, it does its job extremely well.
Flip open the cover, and you'll discover a treasure trove of information, pictures, and thoughts on some of the greatest titles ever made on any console. These are real, honest to goodness classics here, the likes of Fantasy Zone II on the Sega Master System, Gradius on the NES, and (you knew it was coming) Moon Patrol on the Atari 5200. There are more than a few smaller names in here as well, stuff that you might not even recognize if you're a gamer since the '70s, and that's a good deal of the fun.
Reading through The 100 Greatest Console Video Games 1977 – 1987, I found lots that I flat-out didn't know. Each 'review' is broken up into a few smaller parts. For starters, there's the description where the author talks about the history of the game in question and details where it came from, where it went (after the '77 – '87 era) and what kind of an impact it made on the industry.
One of the best things about these write-ups is that Weiss doesn't try and hide his enthusiasm in the least. Not sounding like a dull history lesson, he actually gets excited just talking (well, writing) about his favorites, and that makes him come across like the game fan that he is. As a fan myself, that's refreshing and makes for a much more interesting read.
Each 'review' in the book goes deeper than just that too with a 'Fun Fact' and a 'Why it made the list' section for each. The 'Fun Fact' is just that and relates a cool little nugget of info about each game in the book. For example, did you know that the NES version of Pac-Man was the base for the GameBoy Advance version? Little stuff like that adds a lot to the readability of the book and constantly bombards you with factoids, which is a cool deal as a reader.
As for the 'why it made the list' section, that's a little more of a direct explanation of why the game in question deserves to be considered among the very best of all time. For the Super Mario Bros entry, Weiss explains that not only does the game perform incredibly well as a platformer (one of the best of all time IMO), but it also pretty much singlehandedly changed the course of console history. Remember that the NES and Super Mario Bros signaled the return to form for the industry and basically saved gaming as an art form after the crash at the hands of the Atari line of consoles.
Even if you're not into history though, The 100 Greatest Console Video Games 1977 – 1987 is a joy to read. The book is beautifully illustrated and put together, with fantastic box art, screenshots, and even occasional cartridge pictures (some of which are sometimes gloriously beat-up looking). It's colorful presentation is printed on some excellently heavy stock as well, with big and glossy pages that are easy to thumb through and just plain fun to read.
Final Thoughts
If I had had this book as a kid, I would have completely destroyed it from reading it so much. There's just something about it that screams 'pick me up and enjoy', and I haven't been that enamored with a 'compilation' tome since DK's excellent series of books about DC and Marvel superheroes.
As it is, I haven't eradicated the pages yet and bent the cover all to hell, but I have read through this one a few dozen times, picking up something different on each pass- and it now has a special place on the mini-shelf that resides on my desktop. If you're a student of the industry or just love the greatest generation of console gaming (my opinion… but completely true), then you pretty much need to give this one a serious look. I doubt that The 100 Greatest Console Video Games 1977 – 1987 will disappoint you.