The Skylanders aren't just starring in blockbuster video games anymore, they're also set to fly overhead at the Macy's Thanksgiving Day Parade as Eruptor will be making his high-flying debut.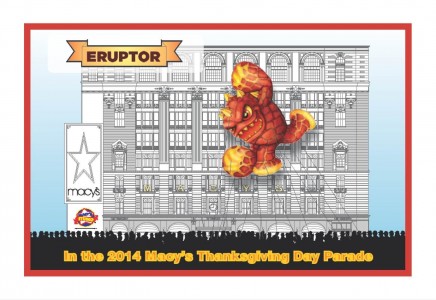 There isn't much that the Skylanders don't grace these days. The game series has blasted through the stratosphere with a global take of some $2 billion USD (yes, billion) and been a hit with kids and adults alike in all of its incarnations (Trap Team being the latest). With that kind of fame and fan support, it was only a matter of time before they got even bigger. No, like- I mean really big. Like gigantic balloon in the Macy's Thanksgiving Day Parade big.
Eruptor, a fan favorite Skylander that's made of magma, will be representing the Skylands contingent in the big show, and he should make quite an impression as he looks to be about two-stories high. Now thats a Skylander that even Kaos would probably be a little leery of. Check out the designs and a little sneak peek at what old Eruptor will look like in the gallery below, then make sure you're tuned into NBC on Thanksgiving Day in the US (November 27th) to catch him live and in living lava. The parade kicks off at 9am in all time zones.