If you're looking for a little lead time to perfect your skills before the main Advanced Warfare online multiplayer war starts off, then you best get yourself to your local retailer right now.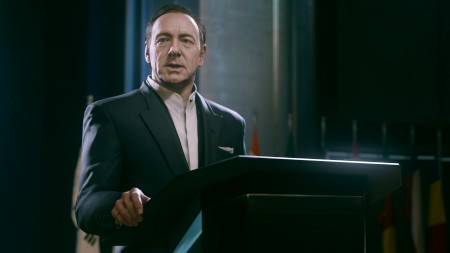 The Call of Duty: Advanced Warfare Day Zero edition is targeted at those among us who want that special edge that a few hours time would give them in the multiplayer arena. Actually, depending on just how long you can afford to play today/tonight, you could theoretically get in a whole day's practice before Advanced Warfare officially hits the streets tomorrow.
Of course, as we've been telling you for a while, in order to get in on the Day Zero edition you would have had to have pre-ordered your 'Day Zero' copy of the game. If you have though, and you haven't gone out to grab it as of yet, get thee to whatever store you pre-ordered from. Activision has a whole day of Double-XP set up for today in Sledghammer's brand new take on the CoD franchise, and you'll also be getting an early look at two of the game's new pieces of hardware in the AK-12G assault rifle and Crossbow-B2, and the Advanced Arsenal, which includes the Bullet Brass exoskeleton and in-game custom EM1 Quantum weapon. Pretty nice all around.
Also on sale today is the Season Pass for Advanced Warfare, which gets you the four 2015 map packs for the game at a price of $49.99 USD, which is about ten bucks off the price tags of all of them if you were going to pick them up separately. Season Passers also get access to the Atlas Gorge Bonus Multiplayer Map, which is a riff on the Call of Duty 4: Modern Warfare map called Pipeline.
Oh, and while were talking all things CoD, don't forget that you can also pick up that Call of Duty Xbox One bundle (you know, the one with that tasty 1TB hard drive?) today for $499.99 USD. It includes a much roomier HD, as well as a custom console and controller combo, a limited run exoskeleton for your in-game character and a digitally downloadable copy of Advanced Warfare- can't for get that.