Activision's über-popular toys-to-life platformer returns once again to Nintendo's handheld with a separate adventure form the big console release.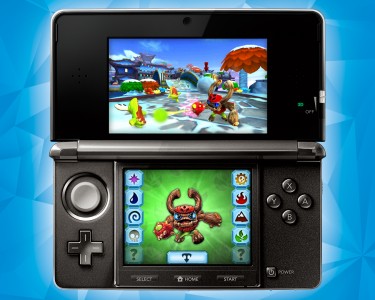 It's interesting, but the 3DS versions of the Skylanders games have really become a kind of side-series to the main releases from developers Toys for Bob (the originators of the franchise) and Beenox, whom you might better know from their Spider-Man games for publisher Activision. Featuring different stories, mechanics, and abilities for the characters, these handheld adventures are still Skylanders at their core, and come complete with all the trappings that you'd expect. Actually, the 3DS version of the second game in the series was my entry into the franchise and got me seriously hooked, so I suppose there's something to be said there too.
In Skylanders Trap Team, the main storyline of the Xbox and PlayStation release takes a back seat (as does the Trap Team itself really) and we find that a nefarious villain named the Dream Sheep has escaped from the Nightmare Realm thanks to series mainstay Hugo (you know, the little mole-guy?) reading an ancient incantation from a mysterious book in Skylands' library. And if you take one thing away from this review, let it be this- don't go reading ancient incantations from mysterious books. IT NEVER WORKS OUT.
Back to the review… Not only does the Dream Sheep (who is, in actuality, a giant black sheep who's perpetually in a bad mood) escape, but he brings a bunch of his buddies along with him for the ride. They've put Skylands' to sleep and are taking over the place, and you and your team of Skylanders have got to stop them, which is where 'trapping' comes in. I'm going to mention this straight away, because to me these are the two biggest gameplay differences from the home and handheld versions of Trap Team: number one -there are no traps used in this game, and number two – you really don't play as the villains all that much. You'll still get to play as them, but in short mini-game-like stages buit just for them, and when you call them in in battle, it's really only for a momentary assist. Also worth a mention is that, although the Trap Team is usable in play, they're really a non-issue in terms of the story.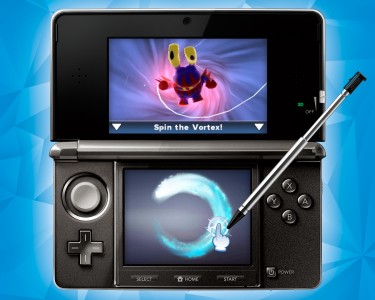 Hand-in-hand with the villains non-use, and one of the main elements in the home version, the innovative little 'traps' that are used to snare enemies and make them work for you are nowhere to be found here- which is not to say that you can't still trap baddies. How you ask? By swirling your finger around the touchscreen to suck them up into a vortex. Yup, that's it. Beenox has tried to keep the 3DS version of Trap Team as physically 'portable' as possible and that means no traps. It also means 'no figures'… well, not really.
You'll still have to pop your Skylanders figures onto the Portal of Power that comes with Trap Team, but once you've loaded them up into the game, they're there for use anytime. So when you're on the go with your game and console, you don't have to flub around with a bag full of figures, all you'll need to do is select which Skylander you want to play as, at any given moment, from the touchscreen.
The 3DS' touchscreen actually comes into use in Trap Team way more than I thought it would- and actually, way more than I think any game in recent memory makes use of it. You'll use to to swap characters and trap evil-doers of course, but you'll also use it to open treasure chests, play mini-games, and build bridges of sheep to jump on (no, that's not a typo). It's pretty great to see one of the core elements of the Nintendo 3DS actually used to such an extent in a game, especially one not made by the hardware's creator, and the various activities actually added to the experience for me, breaking up the platform-heavy gameplay.
And this is a platformer through and through. You'll run, jump, and attack enemies as you make your way around the stages, all of which sprout out of a central hub level, which is the norm in these games. The gameplay still manages to be fun though, despite a number of outings for the series, so I don't want to make Trap Team sound like a rehash. And the altered play-style actually provides for a pretty different game in general when comparing to the console version, which is good news for those who tend to play through both.
Graphically, Skylanders Trap Team on the 3DS is nothing to write home about though and, if you do play through both games, you'll definitely not be as wowed on the 3DS. Sure there are moments where the game shines and looks pretty dang good, but most of the time it's simply what's to be expected of Nintendo's handheld. That's not to say it looks 'bad' per say either, it just looks like a… 3DS game. You're simply not going to find the graphic splendor of the console games (which have really been popping visually in the last few outings) here.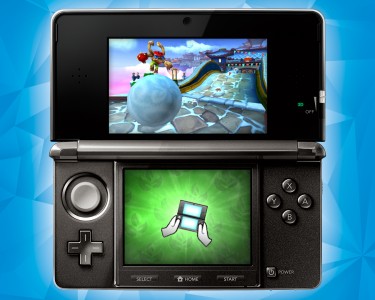 I was disappointed too by the lack of full-motion cutscenes, which there are none. Cinema scenes instead play out in a kind of motion comic/graphic novel presentation, just with a full voice track and music accompanying. It's not bad, just not what I'm used to from the series. The sound design overall is pretty sharp though, and the music and effects are vintage Skylanders – which is a good thing by the way.
Final Thoughts
I greatly enjoyed my time with this one, even with the faults.
There's less of a fully fleshed-out Skylanders adventure than you might be used to with the console releases here, and it is a little on the short side, but Trap Team on the 3DS is still very much enjoyable and definitely has that patented Skylanders charm.
If you're a fan of the series to begin with, I doubt you'll be too disappointed, and if you're not a follower already, well, Skylanders Trap Team is a fun little platformer with plenty to do and more than enough to see to keep you occupied while you're out and about.