Incredible levels of detail and posability equal  some amazing-looking 'toys' with S.H.Figuarts' new Injustice: Gods Among Us series.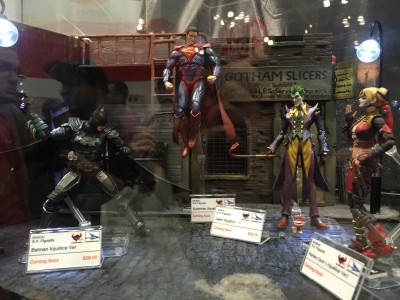 I have a few figures from Figuarts, namely Aliens and Predator toys, and I don't own too many more that can even come close to matching the articulation and the detailing on them. I basically just started collecting them (those are literally my first two) and so far, I can't get enough.
These Injustice figures are prefect representations of why. Made with the maximum attention to authenticity, the diorama on the show floor at NYCC 2014 looked almost like a stage form the popular NetherRealm fighting game come to life.
S.H.Figuarts didn't have a ton of product to show off in terms of Injustice, only four figures total, but all of them are stunners and look identical to their in-game counterparts. You won't have too long to wait for them either as these guys should start hitting comic shops and online retailers some time this Holiday, around December.