DST has a phenomenal lineup of Minimates  on tap for today, along with some neat bottle openers featuring the TMNT and the pulse rifle from Aliens.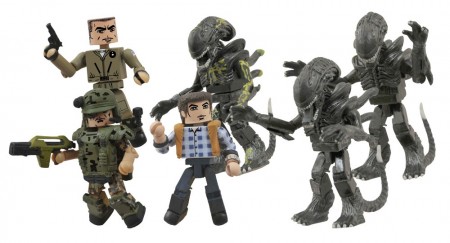 It's a pretty great week to be an Aliens fan. Not only is there an awesome pulse rifle bottle opener in stores to help you pop the top on your favorite chilly beverage, but there's a kick-butt selection of Aliens Minimates out and about as well. I've personally been waiting a while for these and they don't look to disappoint with mini-versions of Spunkmeyer, Burke, and those lovable xeno's. If you're a fan of the best movie in the series (IMO), then you don't want to miss these.
Also on the mini front are the Guardians of the Galaxy Minimates. These bad boys include all the main characters from the film that broke all kinds of records for an August theatrical release and the Drax and Groot set even packs a little(er) Rocket Raccoon. He's so cute with his tiny little rocket launcher isn't he?
All of the above, plus the Michelangelo bottle opener should be available today at your local comics shop or specialty store, so get to getting comic and/or movie fans.