Teslagrad makes it's debut on Nintendo consoles along with the posting of the classic platformer Adventure Island.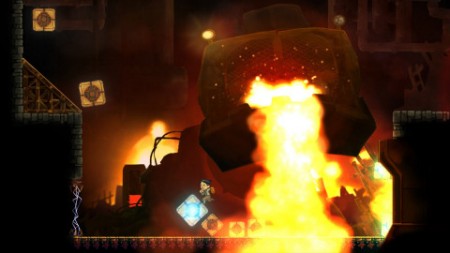 I always felt like Adventure Island got kind of a raw deal as far as platformers went in the golden age of consoles. You can definitely make a solid case for why it should have considering how many gems were around in those days, but Master Higgins and his barefoot, island hopping, jaunts never really captured my friends attention. They were all way too wrapped up in Super Mario and the like to even glance the chubby little explorer's way, but I always had a great time with these games and so it's pretty cool to see the original hit the Virtual Console for the Wii U.
Moving forward a few decades, this week also see the arrival of Teslagrad on the Wii U. Filled with puzzles, Teslagrad almost straddles the line between platformer and puzzler. From the critical response it's gotten on the PC, it seems to be doing both quite well too.
Aside from all the platforming this week, Nintendo still has their Super Smashing Sale going on. That one is set to introduce you to some of the better known Super Smash Bros competitors' games before that fighter actually hits, but at a discounted price. If you missed out on any of these all-time greats, this'd be as good a time as any to pick a few up.
Coming soon:
Legend of the River King 2 – Sept. 18 (Virtual Console on Nintendo 3DS)
Wild Guns – Sept. 18 (Virtual Console on Wii U)
Mario Golf: Advance Tour – Sept. 25 (Virtual Console on Wii U)
Also new this week:
In addition to video games available at retail stores, Nintendo also offers a variety of content that people can download directly to their systems. Nintendo adds new games weekly to the Nintendo eShop on the Wii U console and the Nintendo 3DS family of systems, the Nintendo DSi™ Shop for the Nintendo DSi system and the Wii™ Shop Channel for the Wii console.
The Nintendo eShop is a cash-based service that features a wide variety of content, including new and classic games, applications and demos. Users can add money to their account balances by using a credit card or purchasing a Nintendo eShop Card at a retail store and entering the code from the card. All funds from one card must be loaded in the Nintendo eShop on either Wii U or the Nintendo 3DS family of systems, but can be used in either Nintendo eShop if the systems are linked to a single Nintendo Network account.
The Wii Shop Channel offers games and applications and uses Wii Points™, which can be purchased via the Wii Shop Channel. The Nintendo DSi Shop offers games and applications and uses Nintendo DSi Points™, which can be purchased in the Nintendo DSi Shop.
Remember that Wii U, Wii, Nintendo 3DS, Nintendo 3DS XL, Nintendo 2DS and Nintendo DSi feature parental controls that let adults manage some of the content their children can access. For more information about this and other features, visit http://www.nintendo.com/wiiu or http://www.nintendo.com/3ds.