It seems that rumor about Nintendo adding new cups in the form of DLC turned out to be true. Mario Kart 8 will be receiving new cups, karts, courses and characters.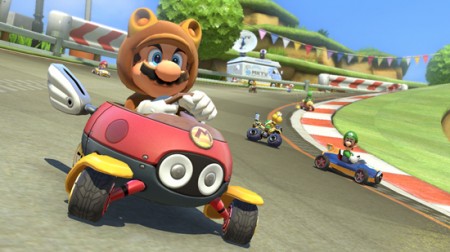 You can pre-order the DLC packs now, but the actual release dates will be some time in November of this year and May 2015. There's some pretty cool stuff included, such as an F-Zero kart, Tanooki Mario, Dry Bowser, and Link. There will be new and old courses alike available for download, like Wario's Gold Mine for Mario Kart Wii, an F-Zero track, and Excite Bike course. Both packs will include three characters, four vehicles, and eight courses. That's four new cups, six characters and eight vehicles, it's a wealth of content considering the price.
Also worth noting is the bonus you receive for buying the DLC in the form of eight different colored yoshis and shy guys. Individually, the packs cost 8 dollars, both bundled together will be 12 dollars. It will be interesting to see how they implement this online. If I had to guess, players who don't purchase the DLC will still be able to race on tracks that others pick. So if you think about it, the way they're implementing these packs is rather smart. Include content not accessible unless purchased alongside content that is accessible regardless of whether you buy or not. It's a great hook for people who are apprehensive about investing in these packs.
So what do you think of Nintendo's recent move to implement DLC in Mario Kart 8? Share your thoughts below in the comment section.
Update: Seems the DLC is sold out, so for now it's unavailable for purchase. How a shortage of digital content is even possible is anyone's guess.
Sources: