D-Link brings a router to market with the Wireless AC1900 that promises top shelf streaming and gaming, with mobile interaction by way of its own cloud.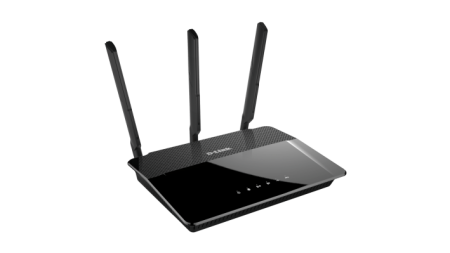 Before we dig in here, some background; I have a horrible history with routers and internet services in general. From my first days with an internet-enabled house (dial-up, and for those who are too young to even know what I'm talking about- Google it), through the DSL years where I really thought I had a handle on it, to today where I have my home outfitted with Cable; I honestly have always been on shaky ground.
The bottom line really, is that I'm no expert on basically any of the stuff that relates to internet services or routers. Sure I know my way around a PC and Mac (I kind of have to since I game quite a bit on the former and work on the latter), but internet stuff? Eh, not so much. And that's one of the reasons I'm kind of over-the-moon about D-Link's latest baby.
I had a Belkin N600 installed to get my Cable internet signal up and pulsing through my house with a Belkin range extender set up on the third floor, which was a necessity thanks to my office being stationed there. I really didn't have any major issues with it, other than the fact that the signal was pretty weak without the extender (it dropped off completely in two rooms on that top floor and even in the other side of the house on the same floor it was installed on), and download/upload speeds weren't the best even with optimal conditions. At times (most of the time really) I didn't even notice a big difference between DSL and my new Cable system. But as I said, I'm no expert, so I figured that was just the way it was.
When we got ahold of the D-Link AC1900 for review here on BG, I didn't think there was going to be a big difference. I'm happy to say though, that I was wrong about that one. Oh, so wrong. The AC1900 is like night and day over what I had, and that's not to trash my old router since it did pretty well for me, but this one is just so much better than anything I've ever used before that it's very hard not to be a bit excited about the difference.
Installation, which is something that I usually dread, went along in a stunningly uneventful manner. I basically just plugged the router in after removing my old one, and ran setup from my laptop. You really don't need a computer to interface with the router at all though, thanks to D-Link's app. I've been more on top of my home network than I pretty much have ever been and it's all the result of this extremely straightforward and easy to use app. In all, the whole initial process might have taken about five minutes and it's possible that's an overstatement. Once it was up and running, this bad boy was all aces. Well, mostly, but we'll get to that.
For starters, the AC1900 is a dual band router that supports something called Advanced AC SmartBeam technology. In a nutshell, this is intended to give the user a better range as well as "4 times" the speed that an 802.11N router would give you. The AC1900 actually supports 802.11 A, B, G, N and AC signals, so it's compatible with just about everything and gives off a combined signal strength of 1.9 gbps between its 2.4 ghz and 5 ghz signals. Just in case you're not familiar with what dual band really is, the idea here is that you can use the 2.4 gigahertz signal for stuff like email and everyday web surfing, while the speedier (and generally less congested) 5 gigahertz range would be kept for online gaming, streaming of movies, and music. On the 2.4 ghz end, you're going to get speeds of about 600mbps, while the 5 ghz antenna will get you about 1300mbps. It's a setup featured on and it's not exactly 'new', but one that the AC1900 does well. Those interested in those speeds should take a gander.
D-Link touts this as the 'world's fastest' router, and I honestly can't fault them on that statement as I've had zero issues with mine and been able to not only download, but upload trailers to YouTube (something that we do a lot of here at BG) with plenty of zip. Game downloads have also seen a significant bump in speed, which is absolutely delightful since I'm used to starting a download, then having lunch, then grabbing a cup of tea, and then maybe a nap before I could complete the install. I have a ton of stuff connected to my AC1900 too, including a PC, Mac, Xbox One and 360, PS4 and 3, and multiple tablets. A good number of those devices could be in use at any given time, and I really don't notice much in the way of slowdown at all. Obviously, if I was attempting a large-scale download on all of the above, I'd have an issue, but for day-to-day, it's been awesome. Oh, and online gameplay? Delightfully lagless and smoother than I've personally ever experienced.
The router also sports a dual-core processor to keep things zipping along at primo speeds, a trio of antennas to broadcast that signal, four ethernet ports, one USB 2.0 port, one USB 3.0 port, and a whole lot of bells and whistles. Extra features include Traffic Prioritization so the router can even out performance across both bands and all devices connected, guest networks so you can have special access for guests in your home, and its own Cloud.
Yes, the AC1900 makes use of those USB ports to actually give you your own personal cloud for your home. Now, it's not limitless, but this feature allows you to plug in a USB stick and then access that stick and any files it contains anywhere in the world, even from an iOS device, via an App. In addition, you can monitor the AC1900 from anywhere as well through another App that connects you directly to your D-Link router.
As much as I've been gushing about the AC1900 though, I did experience some bumps in the road. For starters, the range is great, but not perfect. I have a decent sized house, but the AC1900 has been labeled for use in 'large' houses. I thought that meant that it'd be fine for me and I might be able to do away with that range extender. Not the case.
The signal (both bands) dropped off when I went into the same two rooms that had issues with the Belkin unit, on the third floor. The only difference was that, with the AC1900, it came back and went out intermittently. While that might not sound awful, it might as well have not been connected at all since it had a habit of doing it quite often. All rooms on both the first and second floors were covered perfectly though, so performance was very solid there and not nearly as iffy as the signal strength on my old router.
I also had a strange issue with my iPad and a family member's iPad Mini where I had to turn the devices off and then back on to get the new signal working once I switched out my old router and installed the AC1900. I couldn't quite figure out what the problem was, but rebooting both tablets seemed to solve it and I haven't had any connectivity issues since.
Final Thoughts
Make no mistake about it, the D-Link AC1900 is a kick butt router and one of the easiest to set up and use pieces of equipment I've ever had the pleasure of switching on.
For someone who's not well-versed in the intricacies of routers, it was a joy all-around and performance matched that ease of use big time. I did end up upgrading my range extender as well (which covered those pesky two rooms), but the strength here is head and shoulders over what I was using and well beyond everything else that I've ever had on my home network.
If you're in the market, I'd easily recommend the D-Link AC1900 as a go-to router. And really even if you're not, you might want to take a long, hard look at it and see about an upgrade.