Activision's semi-movie tie-in Transformers: Rise of the Dark Spark has three new characters and a pair of new weapons added to its multiplayer modes via the latest DLC.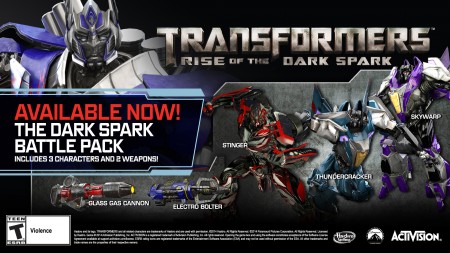 We actually missed this one when it hit servers last week, but the movie universe's Autobot Stinger and the Transformers: Cybertron universe's Decepticon seekers Skywarp and Thundercracker have been added to the game's co-op survival mode, Escalation.
You can now play as any of the three characters for the price of $1.99 USD each. As for the guns, the Glass Gas Cannon and the Electro Bolter are both now available for use in Escalation or in the main Campaign itself. The hardware (aren't the Transformers themselves technically 'hardware' too?) will cost you $.99 USD each separately.
All of this is available as one master pack though, available under the title Dark Spark Battle Pack, and that will run you $5.99 USD. That's not a bad price at all as it saves you about two bucks on the overall tag, which effectively means you're getting both guns for free.
Transformers: Rise of the Dark Spark is available right now on the Xbox One, Xbox 360, PS4, PS3, and PC. You can check out our official review here.