Peripheral maker MadCatz is getting mechanical with the brand new S.T.R.I.K.E.TE.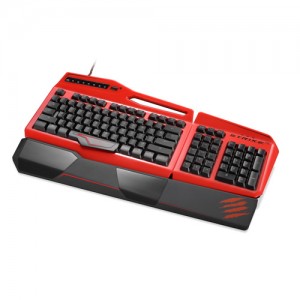 The brand new Tournament Edition keyboard is the next in the popular S.T.R.I.K.E. series of 'boards from the company and has its eye set on online gaming pros. Much like the recently announced M.M.O.TE mouse, the S.T.R.I.K.E.TE was designed with input from e-sports professionals for e-sport professionals, though I'm sure your average PC gamer would get a heck of a lot out of it as well.
"Our S.T.R.I.K.E. keyboards are designed to lift the bar in performance.  The S.T.R.I.K.E.TE complements the range perfectly and services the ever-growing community of e-sports professional gamers," said Darren Richardson, President and Chief Executive Officer of Mad Catz.  "The growth in competitive gaming shows no sign of abating, and we're confident that our range of Tournament Edition hardware will contribute positively to sales in FY15."
With an aluminum chassis, the S.T.R.I.K.E.TE is home to 109 Brown Profile mechanical keys. If you're wondering what those are, Brown Profile keys are favored by 'e-sports athletes' according to MadCatz and boast incredible reliability with over 50 million keystrokes in their lifetime. Kind of easy to see why they like 'em with that piece of info. The S.T.R.I.K.E.TE also sports full backlighting with multiple zones so your desktop can look like a proper rave, macro's, and the usual great software suite that you'd expect with a S.T.R.I.K.E. keyboard. In fact, MadCatz says with proper calibration, this bad boy can be made to set "multiple keystroke macros to within 1/1000th of a second". Pretty impressive.
There's no release date yet for this one, but you can pre-order right now on the MadCatz website here. The S.T.R.I.K.E.TE ships in glossy red, white, and black.