A huge line for the company, IDW will be celebrating a landmark year for their deluxe Artist's Edition books in November.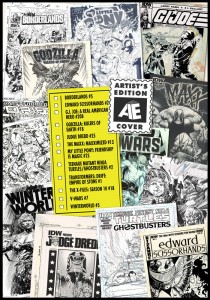 In a nutshell, Artist's Editions are actually archives of of work. Centering on an individual artists and their signature book, these tomes feature scanned pages direct from the original pieces. And although they might appear to be presented in black and white and feature pre-colored artwork, IDW actually does scan the pages in color so as to capture every aspect of these classic comics. Notes, corrections, paste overs and everything else is plainly visible in these books just as they look on the original pages, giving you an inside look at what it took to crete some of the greatest comics of all time. Basically, they're super-cool and fantastic collectables for die-hard fans of particular artists.
This coming November, the latest in the set hits retail with Enemy Ace: Artist's Edition. And along with that book, will be a set of current comics from the publisher that will all have Artist's Edition-style covers. In addition to the Artist's Edition covers (which will mimic the look and feel of an AE, right down to the "paste-ups, blue-lines, whiteout, and notes"), you'll be also be able to pick up blank cover versions. IDW says the idea here is that you can sketch your own cover illustration or bring it to a con and get the actual artist to do a special one, which would be a very special artist's edition indeed.
Here's your checklist for the month:
Borderlands #5
Edward Scissorhands #2
G.I. Joe: A Real American Hero #208
Godzilla: Rulers of Earth #18
Judge Dredd #25
The Maxx: Maxximized #13
My Little Pony: Friendship is Magic #25
Teenage Mutant Ninja Turtles/Ghostbusters #2
Transformers: Drift: Empire of Stone #1
The X-Files: Season 10 #18
V-Wars #7
Winterworld #5
The above books, and the Enemy Ace Artist's Edition, will be shipping throughout November, so make sure you get down to your local comics shop and let 'em know you want the full set.