Toys R Us is going to be a little more hard-boiled than usual as the toy giant is getting an exclusive wave of figures based on the original 2005 film, Sin City.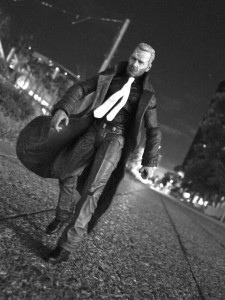 Produced by DST, the Sin City Select line boasts three of the major characters from the original and the sequel really- and in two flavors of deco. Bruce Willis' Hartigan, Mickey Rourke's Marv, and Jessica Alba's Nancy will ship to stores in black & white (as is the signature style of the movies and the comics) and the two gentlemen from the set will also be available in living color, which'll be exclusive to Toys R Us'.
Sculpted by Jean St. Jean, who you might remember from his excellent Marvel Select Venom figure, all of the characters here will have "multiple points of articulation, multiple accessories and a detailed diorama base". The TRU exclusive color variants will ship with the same accessories as their B&W cousins, but will have different display bases, which will be a little smaller in scale.
There will also be a color figure of Nancy shipping at some point, but not for the line's debut. The initial wave of the Sin City Select series should be hitting stores right now, with a second wave on the way some time soon.