Hut, hut, hike… I mean spike!!!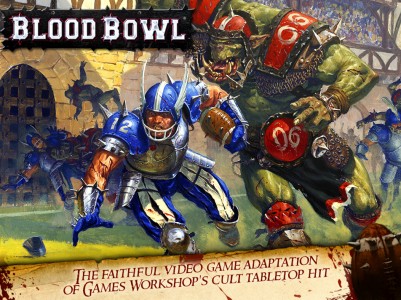 Blood Bowl 2 might still be a ways off, but you can get a brand new BB fix in right now on your tablet of the Apple or Android variety with Cyanide Studio's new turn-based, mobile gridiron bash-fest.
Six different races from the Warhammer universe make up the roster of playable teams in Blood Bowl (humans and orcs in the base game and Dwarfs, Skaven, Wood Elves and Chaos are all available via download), each one with their own abilities and chances for development into a champion in the game's campaign mode. If you'd like to go head-to-head against a pal, you can also indulge in a little hot seat multiplayer where you pass no the pigskin, but the tablet between two players, each taking their turn.
This edition of the game is also cross-platform compatible, so you can play against PC gamers online, or even have matches against Android players if you're playing on an iPad. I love that kind of thing since it opens up the field and allows for tons more players in the game.
Blood Bowl is available right now and can be had via the Apple App Store or the Android Marketplace.