Not high end action figures, but snap together models (that work exactly like action figures once assembled), Bandai's SpruKits are looking mighty cool.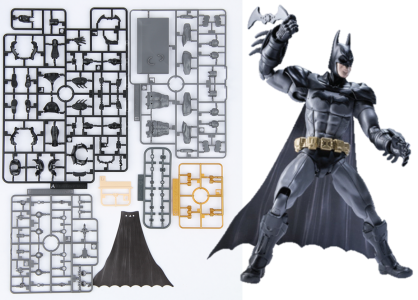 On display on the show floor at SDCC, Bandai's SpruKits are really something new and pretty dang awesome. As a figure fan for a good long time, I've rarely seen toys that look this detailed and are at the same time super-posable. The SpruKits series manages to pull it off though, and still somehow be a snap-together model line.
Since it's snap-together by the way, there's no glue needed. Or scissors or paint for that matter. Basically, think of them as toys that you have to put together… kind of like building block toys, but for action figures. Bandai plans on having a pretty nice lineup of the kits available including the Batman: Arkham version of the Dark Knight that you see above, Superman from Man of Steel, the Master Chief (Halo), Spartan Gabriel Thorne (Halo), Spartan Sarah Palmer (Halo), and more.
Check 'em out in the gallery below and then get ready to make some models (sort of) as SpruKits arrive at retail as of next month and will run anywhere from $9.99 USD to $54.99 USD.