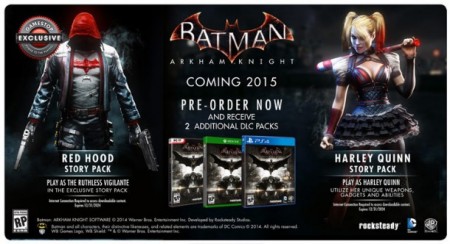 Gamestop tweeted out a teaser image earlier that was later revealed to be a picture of The Red Hood vigilante. Gamestop is offering an exclusive Red Hood DLC when preordering Batman: Arkham Knight. This is also to go with the Harley Quinn DLC already offered by Gamestop.
Comic book fans will immediately notice the Red Hood is Jason Todd, he was the second person to wear the Robin cowl. Todd later became the Red Hood after he was killed by the Joker. In the Battle for the Cowl, Todd wore a futuristic Batman outfit and also used guns. His outfit looks similar to the one seen in Arkham Knight.
Early speculation from Batman: Arkham Knight was that Todd was the Arkham Knight. This Red Hood DLC does not confirm nor deny that rumor.
Batman: Arkham Knight is set for release for Xbox One, Playstation 4 and PC in 2015.