With two panel presentations to attend and some very cool posters to nab throughout the show, Diamond Select will once again have a nice showing at this year's SDCC.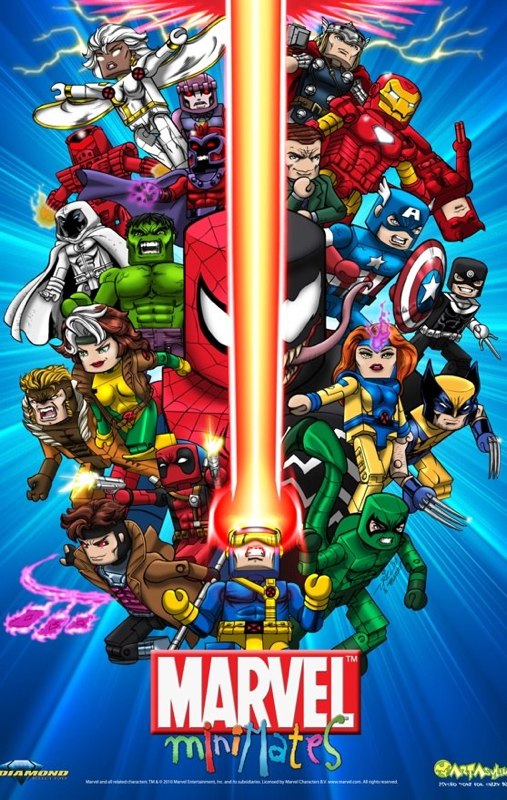 Diamond always puts on a good event at the cons though, so that's nothing new. There usually isn't anything to take home free of charge however, at least not that I can remember. That changes this year as DST will have a selection of posters featuring artwork of  Marvel, Sin City and Jay & Silent Bob characters in Minimate form.
And in between grabbing posters, you can attend the pair of panels that'll be held at the convention center. Both events will have more than enough to occupy your Minimate-loving self and there'll even be a new line announced at one of them. Here's your outline of what to expect:
Minimates Mini-Figures: From Marvel to Clerks to TMNT!
Saturday, 1:30-2:30, Room 8
Minimates may be tiny, but 2014 may be their biggest year yet! Diamond Select Toys President Chuck Terceira, prototype painter Jason Wires and Marketing Supervisor Zach Oat will discuss what's coming up for the popular 2-inch mini-figure line, including new series based on Marvel Comics, X-Men: Days of Future Past, Guardians of the Galaxy, Teenage Mutant Ninja Turtles, Godzilla, The Walking Dead, Jay & Silent Bob Strike Back, Plants vs. Zombies: Garden Warfare, Clerks, Sin City, Kill Bill, Pulp Fiction, Pathfinder, Aliens and more! Check out new photos and artwork, sit in on a Q&A session, and stick around for a Minimates prize drawing at the end of the panel!

Diamond Select Toys: The Best of All Worlds
Sunday, 3:00-4:00, Room 7AB
The creative minds at Diamond Select Toys are known for their diverse product lines, from 7-inch Select action figures to electronic vehicles to role-play items to vinyl banks. With Minimates represented elsewhere, the DST team will attempt to cover every non-Minimates item they have coming up, from such brands as Marvel Comics, Sin City, Godzilla, Plants vs. Zombies: Garden Warfare, Batman, The Walking Dead, Star Wars, Star Trek, Universal Monsters, Pulp Fiction, Kill Bill, Clerks, Lost in Space, Aliens and more! Panelists will include Diamond Select Toys President Chuck Terceira, Marketing Supervisor Zach Oat and prototype painter Jason Wires. They'll also hold a Q&A, announce a brand-new product line, and hold a prize drawing at the end of the panel!
Diamond Select wil be at booth number 2607 on the show floor, so make sure you stop by to see what's new, pick up a few things for yourself and get your free poster.