PS Vita and PS3 players of Zen's awesome steel-ball title can now export some of their favorite tables ingot he PS4 edition of the game.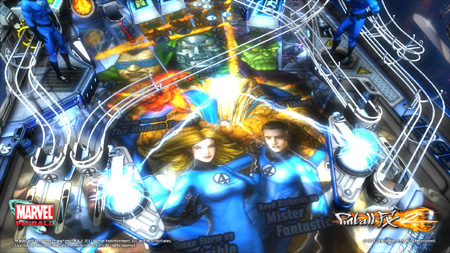 There are quite a few tables set for the transition overall, with themed Marvel setups making up the bulk of what's scheduled. There are more than that though, like the Street Fighter table (a personal fave) and some of the original Zen jobs from a while back. All in all, there's something that you probably enjoy flipping out on.
Marvel Pinball Vengeance and Virtue –Ghost Rider, X-Men, Thor, Moon Knight ($9.99/€9,99/£7.99)
Classic Pack –Tesla, V12, Shaman, El Dorado ($9.99/€9,99/£7.99)
Fantastic Four ($2.99/€2,99/£2.49)
Captain America ($2.99/€2,99/£2.49)
Marvel Civil War ($2.99/€2,99/£2.49)
Super Street Fighter II Tribute ($2.99/€2,99/£2.49)
Mars ($2.49/€2,49/£2.15)
Excalibur ($2.49/€2,49/£2.15)
The tables above can be bought or downloaded if you own them already for the Vita or the PS3, so no worries about buying them again if you already did. Yay for cross-play. Zen does say that you're being "encouraged" to make purchases from your PS3 or Vita if you can though. I'm not sure if that means that you won't be able to export PS4-bought tables into earlier releases of the platform (on the other two consoles) or not, but if you have the option, you might as well just follow the company's instructions. Couldn't hurt.
After you make your buys (if you don't have the tables already), head over to the 'Import Tables' section of Zen Pinball 2 on the PS4 and go ahead and load 'em up. The whole scheme goes into effect on July 15th, so you've got a few more days to make your selections before you can get to the good stuff on your PS4.