Definitely having that MK 'vibe', NetherRealm's newest additions to the Mortal Kombat family fit in right alongside the current roster of favorites… meaning that they don't play nice.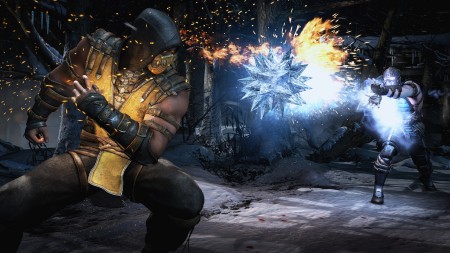 Is it me, or is this pretty easily the best looking fighting game of all time? The graphics on NetherRealm's next generation fighting title are flat-out stunning and MKX (pronounced 'ex' by the way, not 'ten') looks like it's set to hit all they high marks that series fans demand from their Kombat.
More than just a graphical overhaul though, MKX represents a fresh start for Warner Bros and NetherRealm's on-on-one fighting series with a cadre of new competitors in the Mortal Kombat tournament set to seek glory in the arenas of both Earth and Outworld. At E3, we met the massive Torr (and his little buddy Ferra), the insect-like Dvorah, and the Mayan-influenced Kotal. All of them have the MK signature grit that the series has developed over the years and look right at home alongside the already announced Scorpion and Sub-Zero. And each has an amazing amount of detail too. They almost look too good to be characters in a fighting game.
As an MK fan myself, I can't wait to see more. No release dates yet, but you can expect to see MKX arrive on the Xbox One/360, PS4/3, and PC sometime in the future.