New "affordable" gaming headsets incoming for Xbox One gamers.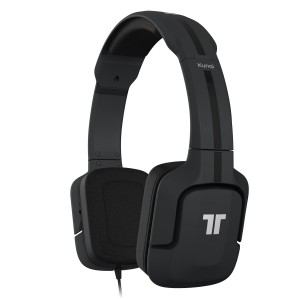 MadCatz' Tritton line of headsets has been around for a while now and pretty much offers fsoemthign for everyone. The series runs the gamut from the high-end wireless jobs all the way down to the stereo Kunai that you see announced here. Just because they're marked as 'affordable' by the company though, don't assume that they skimp on great sound. I actually own a 2 pair of Kunai head sets and they're pretty terrific, not to mention practical since they can be hot-swapped in and out of everything and anything that has a headphone jack.
Today, the company has announced an expansion to their next-gen offerings with the Kunai for Xbox One, as well as Kama and Kaiken units. There's no release dates as of yet for these bad boys, though you can probably expect to see them hit store shelves some time soon.
TRITTON Kunai™ Stereo Gaming Headset
Designed for extreme comfort and extended gaming sessions, Kunai comes to Xbox One with superior stereo audio, high-quality build and an eye-catching design. Kunai is also compatible with MP3 players and a wide variety of audio devices.
TRITTON Kama™ Stereo Gaming Headset
A fully featured stereo headset featuring in-line audio controls and precision-balanced 40mm speakers.  Kama is also compatible with MP3 players and a wide variety of audio devices
TRITTON Kaiken™ Mono Chat Headset
An ideal upgrade to the communicator found in pack, Kaiken can be worn on the left or right ear and features in-line controls for volume and chat.