Ten years and a whole mess of incredible art are bound into one tome to dragon punch them all in UDON's Art of Capcom: Complete Edition.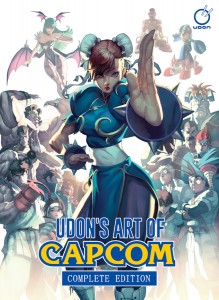 Featuring an incredible collection of more than 80 different artist's work on "Street Fighter, Darkstalkers, Rival Schools, Mega Man, Strider, and other classic Capcom franchises", this is one book that hardcore fans probably aren't going to want to miss out on. Inside Art of Capcom: Complete Edition, you'll find drawings of everything from comic book covers and video game box art to toy designs and more, all done by UDON's incredible team. And if you're familiar with the company, then you probably don't need me to say anything more as they've produced some of the coolest video game art and comic books of the last two decades.
This is a massive, massive book too; weighing in at 600 pages of Capcom-y goodness. In those voluminous pages you'll find the complete contents of both the Art of Capcom Volume 1 and 2, as well as a whopping 75 pages of new content that all equals up to be one of the most comprehensive looks at longtime game publisher Capcom ever produced. Maybe the best part, there's a special hardcover edition of the book scheduled to be available at the SDCC in July.
This edition, like all of UDON"s previous works to be offered in such a way, will be super-limited and will be available in first-come-first-served style at the Comic Con starting on Preview Night, July 23rd. Believe me, I've tried to get some of their stuff at shows in the past- get there early if you want one. Making it even more attractive, this special edition will also feature a special dust cover designed by artist Joe Ng to pay homage to Capcom great Kinu Nishimura's Capcom Design Works covers, which is pretty rad.
Though you can get that special edition SDCC variant at the con next month (holy crap, SDCC is next month already?!), the standard edition won't be shipping to retailers till the fall. So if you can't make the big show on the coast, sit tight till the autumnal season… or just start trolling eBay I guess.