A new assortment of Minimates dedicated to the star-spangled Avenger and a bust based on the Adam West camp-fest that was Batman in the 1960's are in stores this week from the toy and collectible maker.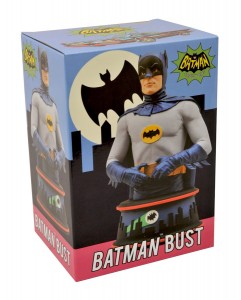 Who wouldn't want to add a little Adam West to their desktop? Well, that question is answered this week as the official bust of Mr. West as Batman (as seen in the classic TV show) makes its debut. Right along side Bats is the Cap Minimates assortment that you've no doubt been waiting for since the movie opened.
This collection features Cap, Batroc, Crossb- uh, Brock Rumlow, and more; all done in the usual excellently collectible Minimate style. Have a look at what you can pick up right now in stores below.
Batman Classic TV Series Batman Bust
Holy Bat-busts, Batman! DST kicks off their line of resin busts based on the Batman Classic TV Show with none other than Batman himself, as portrayed by Adam West! This bust measures 6 inches tall, and is in scale to other DC superhero bust releases. Batman will be the keystone to any Classic Batman TV Show collection, so pick him up before Robin, the Joker and the Riddler arrive on the scene! Designed by Barry Bradfield! Sculpted by Jean St. Jean! (Item #NOV131814, SRP: $60.00)

Marvel Minimates Series 55 Captain America: The Winter Soldier Asst.
A Diamond Select Release! The newest batch of Marvel Minimates is based on the hit movie Captain America: The WInter Soldier, and includes four different 2-packs: Stealth Uniform Captain America vs. Brock Rumlow, Classic Captain America vs. Winter Soldier, Black Widow with Falcon and Agent Sitwell with Batroc. Each Minimate stands 2 inches tall with 14 points of articulation and features a variety of interchangeable parts and accessories. Exclusively at comic shops and specialty stores!  Designed and Sculpted by Art Asylum! (Item #DEC131824, SRP: $9.99/2-pack)