The IndieBox service has launched it's first boxed game.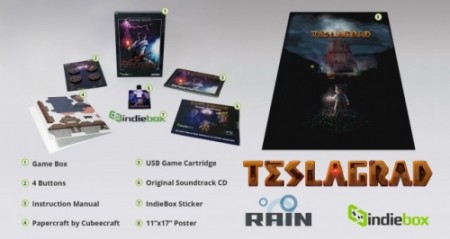 A new subscription service has been started, which aims to send boxed, special edition versions of some of the best indie games to your door.  'IndieBox' will ship a mystery game each month to subscribers, and it will include a bunch of extras along with the game.
The first game is Teslagrad, and comes with a USB cartridge with the game on, 4 buttons, instructions, some papercraft sheets, a soundtrack CD and a poster.  The subscription service is available in 60 countries and will set you back a minimum of around $15 a month, depending on what plan you choose.  While you won't know the game until it's ready to ship, there are requirements for a game to be featured on the service.  It must support Windows, Mac OSX, and Linux, have a score of 75/8.0 or better on Steam and/or IndieDB respectively, and must have been released no longer than 6 months from the time the team contacts them.
"We do this because we have to find the best time to feature a specific game and/or have enough time to work with busy developers," says IndieBox president James Morgan, "Once we have found a game that satisfies those basic three needs, we reach out to them and begin discussions on what our product is, how they fit in, and our overall vision of the company. From there it's just contract signing and our team jumps on creating the box!"
If you want to find out more and possibly subscribe, check out the IndieBox website.
Source: IndieGames.com