One of the more popular of the SWAP Force series of Skylanders, Countdown is absolutely exploding with excitement over one of the most popular sports on Earth; soccer.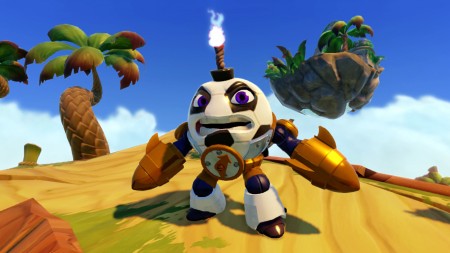 Originally, Kickoff Countdown was discovered by a group of Yetis who were snowboarding one particularly chilly morning when they came across a big bomb encased in ice.  After bringing it back to their cabin, they were shocked when it actually came to life.  No one, not even Countdown himself, has any memory of where he came from or how he ended up frozen in the mountains.  Since becoming a Skylander, Master Eon has been graciously trying to help piece together fragments of his past.  But this has proven difficult, as Countdown loses some of his memory every time he explodes – which happens a lot!

Wow, that kind of stinks. Every time he blows his top, he loses a little more of his memories. And yet, even with that, Countdown still manages to remember that he loves soccer. Or football. Or whatever.
The redeco'd SWAP Force series figure is available with his soccer ball paint scheme on the toy and in the game, as Kickoff Countdown will most definitely look different than plain, old regular Countdown when you plop him on the Portal of Power. I have to say too, he looks really cool with the black and white coloring. I'm not even really a soccer fan, and I like it so much I think he might just replace my standard Countdown.
If you're digging the new design too, you can get ahold of the little guy right now at Toys R Us stores (he just went on sale yesterday), or at Toysus.com, and at other retailers starting next week.